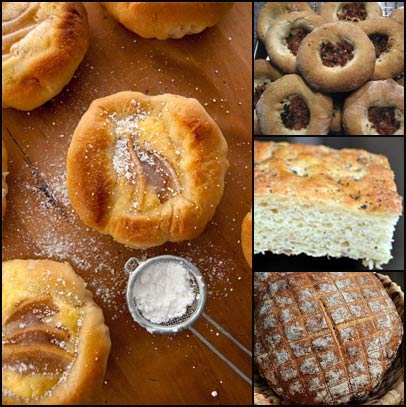 We know I don't say this enough, but a thousand thanks to all who submit their bread to YeastSpotting. Your amazing efforts continue to delight and inspire me and thousands of yeast-minded people every week. We're just getting better and better!
YeastSpotting is a weekly collective showcase of yeasted baked goods and dishes with bread as a main ingredient. For more bread inspiration, and information on how to submit your bread, please visit the YeastSpotting archive
.
Loaves and Rolls

The Fresh Loaf: dmsnyder's blog

1x umruehren bitte aka kochtopf

louie brown's blog/the fresh loaf

The Lost World of Drfugawe

1x umruehren bitte aka kochtopf

Flatbreads, Filled Breads, and Savory Pastries
Sweet Breads and Pastries

Frugal Antics of a Harried Homemaker

Stories from an Indian Kitchen!!