Today's bake: Norwich Sourdough.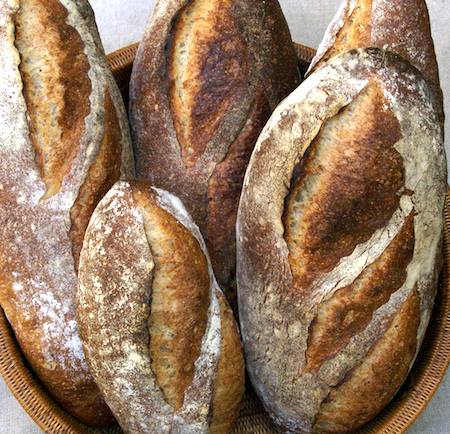 Filed in photos • Trackback URI

Print with or without images
Comments Feed
Stefanie on April 9 2010 at 11:14 pm:

and looks still delicious!

Chiot's Run on April 10 2010 at 05:47 am:

My fave is the basic recipe from Bread Baker's Apprentice – love it! Just made 3 batches yesterday (on final rise at the moment). I'll have to give this one another go someday soon.

I also made a batch of your overnight ciabatta, with sourdough yeast, and a batch of your sourdough english muffins. Trying to fill my freezer with delicious goodies for those busy summer gardening days!

Not to mention I don't have a big fridge so when it's cool at night I can put all the dough in my attic for retarding – so much easier than trying to find room in the fridge.

Thanks for all the great recipes.

SallyBR on April 10 2010 at 08:05 pm:

I have to say it is my favorite too… I keep always coming back to it, although I never made in this shape, always round "boules"

I need to practice slashing to get loaves 1/5 as gorgeous as yours – that would already be great for me!

Sandra on April 11 2010 at 08:42 am:

Making sourdough bread is what got me interested in the whole breadmaking circuit in the first place. Your loaves look amazing, and I can't wait to try my hand making these myself!

Julia on April 11 2010 at 12:18 pm:

Love sourdough!

Jeremy on April 11 2010 at 12:27 pm:

I just made a couple of loaves from the Coupe De monde team in 1994, wheat loaves, sort of a nice color, smell and slightly croustillante,(burned on the grigne) nice caramelization!!!

Happy Baking Susan!

Elle on April 11 2010 at 02:48 pm:

Just reviewed your Norwich recipe and can understand why those beautiful loaves are a treasure just waiting for good butter and jam. Great that there is a way to refrigerate overnight and bake right from the fridge.

Rafael Beltrami on April 11 2010 at 06:53 pm:

I just made this recipe yesterday. It turned out great.

Liz Tree on April 12 2010 at 11:08 am:

Also my favorite, thanks to you!!! I really appreciate when you convert the recipes to 100% hydration starter.. 'cause that is what i have. i have hamelman's book and i now call my bread Williams Sourdough,'cause that's where I live.
I make this recipe, with slight variations about 4-5 a week. I am currently teaching myself how to make artisan sourdough and am using this recipe as my base for learning… playing with time and dough temp etc.
I always make Boules, one day I will venture into another shape.
Mine do not come out as brown as yours????
I almost always put shaped loaves in the fridge overnight.
I preheat my stone and cast iron steaming pan for approx 1 hour,
I start the bake at 500, spray loaves with a mister, steam in the oven….lower to 460 and bake until loaves are 195-200 degrees inside ( I also crack oven door for the last five minutes of cooking)

any thoughts

someday i may figue out how to send you photos
Liz Tree
L & R Family Farm

Liz Tree on April 12 2010 at 02:09 pm:

P.S. to the previous post. What kind of flour(s) do you use. I am currently using King Arther organic all pupose.
Thanks again

Linda on April 12 2010 at 03:13 pm:

Not to cast aspersions on this sourdough, but your extra-sour loaf is still my favorite. I make it nearly every week. I've never made one that comes out nearly as gorgeous as yours, but no matter, it is always delicious!

Liesel on April 14 2010 at 01:34 am:

Love this blog, thanks!

I'm just beginning to branch out from my "safe breads". I had a few issues in trying this recipe. If anyone could help me troubleshoot that would be great! Dough was very wet, spread wide when baking and not very high or dark. Any thoughts?

Susan on April 14 2010 at 12:41 pm:

Liz, try baking them longer for more color. They can go to 210F internal temp. It is very difficult to overbake this kind of bread. Here's a link about my flour: http://www.wildyeastblog.com/2008/06/23/flour-101/

Liesel, it could be that the gluten is not developed enough. Are you using good flour, the windowpane test (http://www.wildyeastblog.com/2007/07/07/gluten/), folding? Or it could be that there is too much water in the dough. How much a dough can take depends upon the flour. That's why I recommend holding back a portion of water initially, and adding it in as needed.

Mimi on April 16 2010 at 10:08 am:

Why I always forget to come here for bread recipes, I don't know. These are beautiful loaves, I really need to bake some of these!!

MC on April 16 2010 at 11:22 am:

Beautiful beautiful loaves…

Liesel on April 18 2010 at 04:08 am:

Thank you for your help, Susan!! Tried this again and had much better results! Still haven't perfected it but will try again next weekend with a couple of changes. I also love all your how to's.

Liz Tree on April 19 2010 at 12:58 pm:

Liz again. thanks for the flour info..will be trying a 50 lb Bag of the Central Milling.

Chocolate addition!!! Yummm. I have taken the Norwich recipe, used only white flour, increased hydration to 75% and added sharffenburger chocolate chunks!!!! Wow.. better than I thought.. it just cooled and I am dripping some coffee and my two year old is napping and I am in heaven!!!
OK I may be a little crazy but at leat I eat good!!!
liz

Gina on November 28 2013 at 09:17 am:

I wish there were a way to post photos here! I would so love to show you the ficelles I made this morning! They are perfect, both in crust/crumb and in taste. I am so grateful to you for this recipe.
Post a comment