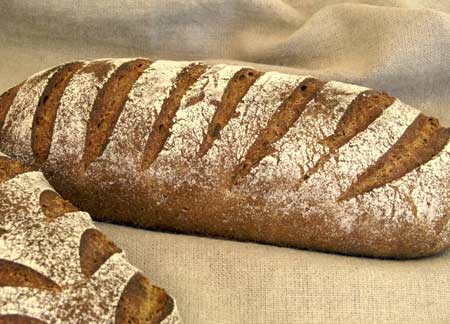 I spent the first few decades of my life believing I did not care for rye bread. Clearly I had a bad experience somewhere in my childhood, and those early associations are nothing if not tenacious. It's a bread that's fairly easy to avoid in this country, if one is so inclined, and I was.
The breakthrough came when we made a version of this lovely simple rye bread in my first class at SFBI. At the end-of-the day tasting, not wanting to eschew it completely and risk exposing myself as a bread wimp, I opted for the smallest piece on the cutting board. Happily, I found myself won over by its rich, earthy flavor and chewy texture, and kicking myself for all those wasted years of rye abstinence.
Rye flour can make a dough difficult to work with. To begin with, it has less gluten than wheat flour, and the gluten is more fragile. Rye also contains a high proportion of pentosans, a type of sugar that absorbs lots of water and can inhibit gluten development and make the dough sticky. Further, rye's amylase (the enzyme that breaks down starch into sugars) stays active to a higher temperature than that of wheat, and prolonged amylase action can make a bread gummy.
Some tips on working with rye doughs (over about 40% rye flour):
Mix gently. If you're using a stand mixer, do most of the mixing in low speed, and don't mix too long.
Sourdough acidifies the dough, which contributes to its strength and reduces gumminess.
Slashing the loaves before proofing helps maintain the definition of the slashes.
Slashing the loaves at at a least a 45-degree angle to the long axis of the loaf encourages upward rather than outward expansion during baking, so the loaf's round cross-section is maintained.
Take care not to overproof the shaped loaves. When proofed, they will not look like they have expanded very much.
Allowing the bread to rest for at least 12 hours after baking reduces gumminess of the crumb.
Trying to wash gluey dough off your hands is an exercise in futility. Instead, rub a small amount of flour between your hands and the dough will crumble away.
I always get a great result from this recipe. It has about 47% rye flour overall, which is enough for the rye's character to shine through but not so much that the dough is excessively unruly. It can be sliced very thinly, makes an excellent platform for soft cheeses, ham, or smoked salmon, and stays fresh for several days.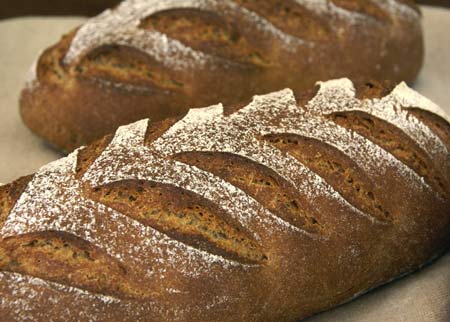 This photo goes to jugalbandi's Click! Crusts.
47% Rye Bread
(Adapted from SFBI)
Yield: 1700 g (3 loaves)
Time:
Elaborate starter: variable, depends on your starter
Mix final dough: 10 minutes
First fermentation : 1 hour
Divide, rest, and shape: 30 minutes
Proof: 1 hour
Bake: 40 minutes
Cool: several (preferably at least 12) hours
Desired dough temperature: 76F
Ingredients:
Method:
Place all ingredients (holding back a little water) in the bowl of a stand mixer. Mix on low speed until combined. Adjust the water as needed to achieve a medium consistency.
Continue mixing on low speed for about 5 minutes, then in medium speed for another 2 minutes or so, to a medium level of gluten development.
Transfer the dough to a lightly oiled container. Cover and ferment for 1 hour.
Turn the dough into a lightly floured counter and divide it into 3 pieces. Preshape each piece into a cylinder by pressing gently into a rectangle, then folding tightly in thirds, letter-style. Let rest, covered and seam-side down, for 20 minutes.
Shape the dough into fat batards by turning the dough seam-side-up, degassing gently, and rolling the dough up tightly, perpendicular to the direction of the rolling when you preshaped. Place the batards, seam-side-down, on a linen couche.
Sift flour over the tops and score each loaf in the pattern of your choice.

Proof, covered, for 1 hour.
Meanwhile, preheat the oven, with baking stone, to 485F. You will also need steam during the initial phase of baking, so prepare for this now.
Once the loaves are in the oven, reduce the temperature to 460F. Bake for 8 minutes with steam, and another 20 minutes or so without steam. Then turn off the oven and leave the loaves in for another 15 minutes, with the door ajar.
Cool on a wire rack, preferably for at least 12 hours.