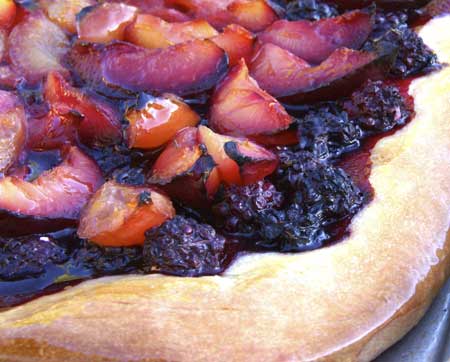 This tart was inspired by two things: the lovely sourdough plum cake I spotted a couple of weeks ago on Steffen's Dinners, and the abundance of blackberries that grow all over this wild little town I have called home for the last two weeks.
The plums are just beginning to ripen, too. The red and purple ones I used for this were just this side of still-hard, so they made for a nicely tart tart. I also used a few wild fennel fronds to scent the blackberry filling.
As with all doughs here in this minimalist kitchen, I mixed by hand. The dough has very little sourdough starter in it, so it takes a long time to ferment. I mixed it the night before and had the fresh-baked tart for breakfast. The dough doesn't proof a second time after shaping the tart, so the crust is dense and crisp, almost like a cookie. Good for standing up to juicy berries.
This goes to Susan (Food Blogga) and Jennifer (The Domestic Goddess) for the Berries edition of Sugar High Friday. If it's summer where you are, may it be filled with blackberries and plums!
Blackberry-Plum Sourdough Tart
(inspired by Steffen's Dinners)
Yield: One 10 x 15-inch tart
Time:
Mix dough: 15 minutes
Fermentation: 8 –12 hours
Shape and fill: 10 minutes
Bake: 40 minutes
Dough Ingredients:
500 g flour
60 g mature 100%-hydration sourdough starter
56 g olive oil
240 g milk
60 g sugar
1/4 t. salt
Filling Ingredients:
600 g (about 4 cups) fresh blackberries
55 g brown sugar
1 T. cornstarch
1 T. finely chopped fennel fronds
1000 g plums, pits removed, sliced into wedges
Syrup Ingredients:
Method:
To make the dough, combine all the ingredients in and mix by hand until the gluten has reached a medium-low level of development. (This took me about 10 minutes.) The dough has a fairly stiff consistency.
Place the dough in a bowl, cover, and ferment at room temperature for 8 – 12 hours, until doubled.
Meanwhile, preheat the oven to 400F, with a rack in the center.
Gently stretch the fermented dough into a 10 x 15-inch rectangle and place it into a sheet pan of the same size that has been brushed with olive oil.
For the filling, toss the blackberries with the brown sugar, cornstarch, and fennel, and spread them over the crust, leaving about a one-inch margin. Arrange the sliced plums on top of the berries, cut side up.

Bake at 400F for about 40 minutes, until the berries are oozing juice and the crust is golden brown.
While the tart is baking, make a simple syrup by bringing the sugar and water to a boil in a small saucepan. Cook for about a minute.
Brush the crust of the baked tart, and the tops of the plums, with the syrup.