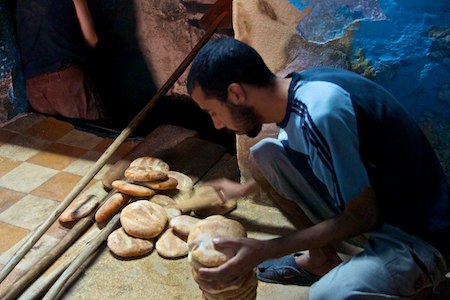 One of the highlights of our National Geographic trip to Morocco last fall was the time we spent in Fez, the country's cultural capital. Inside the walls of the medina, the ancient and unbeliveably vibrant traditional city, 150,000 people maintain a way of life that is, in many ways, much like it was hundreds of years ago.
Jay and I asked out tour manager, Andrew, how we might find our way out of the medina's intricate labyrinth of narrow, brimming pedestrian streets if we were to venture inside on our own, without a guide. "Leave a trail of breadcrumbs!" he answered helpfully. If we had indeed needed them, breadcrumbs would have been easy to find; the medina abounds with several hundred bakeries whose wood-fired ovens collectively produce tens of thousands of khobz — the ubiquitous, flattish Moroccan loaves — every day.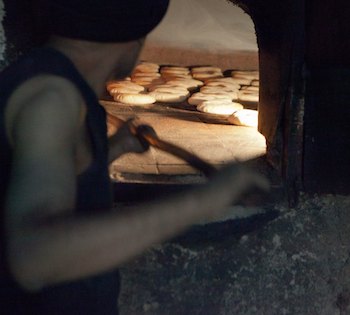 Our guide Rashid turned out to be far superior to a breadcrumb trail. He told us that the bakery — along with the fountain, the hammam (bath), the mosque, and the Koranic school — is one of the five traditional elements of each of the medina's hundreds of neighborhoods. He also helped us negotiate the etiquette of tipping in exchange for permission to take photographs inside — not an easy feat in these small, windowless grottoes.
The cool thing about these bakeries is that, in addition to baking their own khobz, they bake the loaves of the neighborhood women who prepare the dough in their own homes. We saw many women like this one wearing a jalaba (the hooded robe that is the everyday garb of most women and many men), carrying their unbaked bread on a cloth-covered wooden tray to the bakery, where they would pick up the baked loaves later in the day.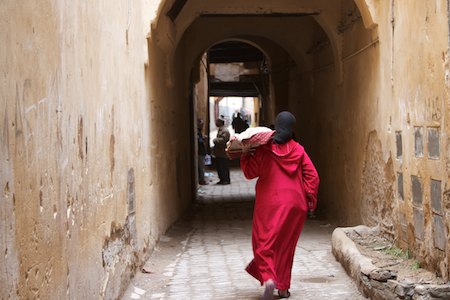 Here are more freshly-baked khobz, waiting to be delivered…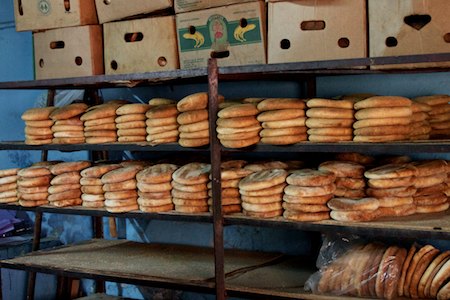 … to food stands like this one selling harira (soup) …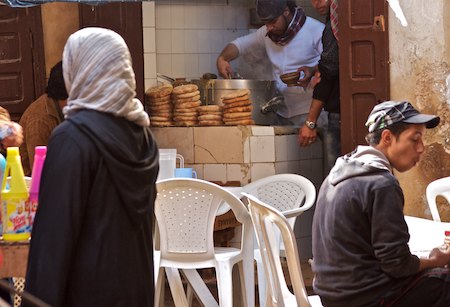 … and to market stalls for people to take home for their dinners, which would not be complete without khobz.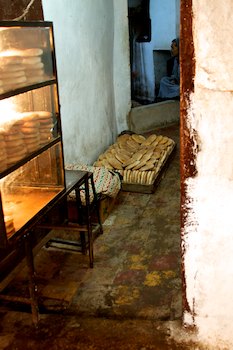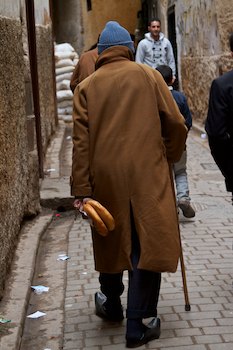 For more Fez photos, take a look at Jay's photography blog, here.