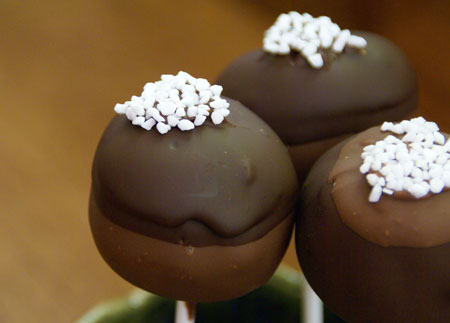 Well, it just figures. The one time — the one and only time in my ever-hopeful-but-never-successful cheesecake-attempting career — that I manage to bake a cheesecake that doesn't crack, I can't show it off. I can't carry it triumphantly to the table to admiring "ooh"s and "aah"s and "look, no Grand Canyon in that cake"s and "she's such a cheesecake star"s. Nope, I'm obligated to transmogrify this one beyond all recognition. Not only that, but I didn't even have the brains to take a photo of it in its pristine, glorious smoothness.
I had to get that off my chest, but I'm really not all that broken up, because the mutation was in service of a good cause. Elle (Feeding My Enthusiasms) and Deborah (Taste and Tell) gave us Daring Bakers an excellent challenge this month: Cheesecake Pops. It's a recipe from Sticky, Chewy, Messy, Gooey by Jill O'Connor.
The idea is that you bake a cheesecake (and it doesn't even have to be a lovely, crack-free, perfect cheesecake) and scoop it out into little balls which you then impale on sticks, freeze, and dip into chocolate plus any other coatings your heart desires.
It's not something I would have ever come up with myself in a million years, nor is it even probably something I would have tried if left to my own devices, but then that's the point of Daring Bakers. And the truth is, this was a lot of fun, and pretty delicious. The challenge allowed for ample creativity in the decoration of the pops, and from the looks of their creations, I think my fellow Daring Bakers had fun too.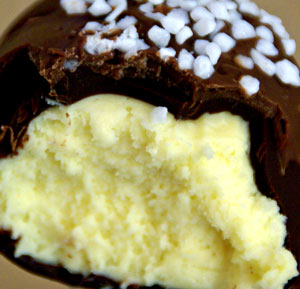 As usual, I have a few thoughts and observations:
My cheesecake required 80 minutes to bake, about twice as long as the recipe suggested. It seems that most of my DB confederates saw this as well.
I wish I knew what it was about this cake that saved it from cracking. In the past I have baked cheesecakes in a bain marie and at a relatively low temperature, as this was, and still they have cracked, if not in the oven then as they cooled.
It took more than two hours for the cake to come to room temperature so it could be refrigerated. I don't recommend baking this too late at night.
The balls were supposed to be two ounces each — about the size of a walnut, according to the recipe. I thought my two-tablespoon scoop produced about that size, but when I had scooped 45 balls and still had about 15% of the cheesecake left in the pan, I decided my balls must be too small. Oh well, they seemed like a pretty good size to me.
Maybe not chewy, but definitely sticky, messy and gooey. Dipping the scoop periodically in water, and wetting my hands before rolling the balls, helped reduce sticking. Even so, it was hard to get them perfectly round. I decided I really like organic shapes.
I clearly need a lesson in white chocolate. I bought dark, milk, and white chocolate, and my idea was to dip each ball successively in the three colors, creating a layered effect. The dark and milk chocolates were no problem, but the white seized (or something) and the more I tried to fix it the more obstreperous it became. Because I had allowed my procrastinating nature to rule this month, there was no time to ask my fellow DBs for help. I finally gave up and gave each ball a cap of pearl sugar instead.
A florist's frog worked wonderfully for keeping the dipped pops upright until the chocolate coating firmed up. Unfortunately mine could only hold three or four at a time.
Thanks to Deborah and Elle for this month's great challenge, and thanks too to Lis (La Mia Cucina) and Ivonne (Cream Puffs in Venice), the founders and fearless leaders of the Daring Bakers. They have worked tirelessly to bring us a brand new forum that is not only robust enough to stand up to constant dishing about the challenge by hundreds of Daring Bakers, but also has a public area where non-DBs can engage in baking banter. Nice work!