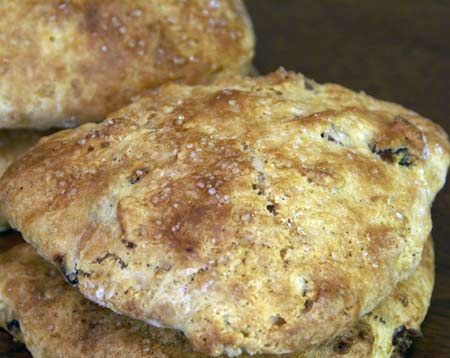 My brilliant, talented, and beautiful niece R moved into her dorm at Berkeley this past weekend. I wanted to send her off with something as sweet as she is, yet also, like R, health-conscious and a little unconventional. (OK, these scones aren't quite what I'd call healthy, but I tried.) I love you R!
To make sourdough scones, I consulted recipes for buttermilk scones (from Tartine and King Arthur Flour Whole Grain Baking), substituting sourdough starter instead of buttermilk to contribute acidity and liquid (as well as a good proportion of flour) to the dough. The result was a lighter, moister, less crumbly scone than those typically found in coffee shops around here. Not as exceptional as R herself, but still pretty good.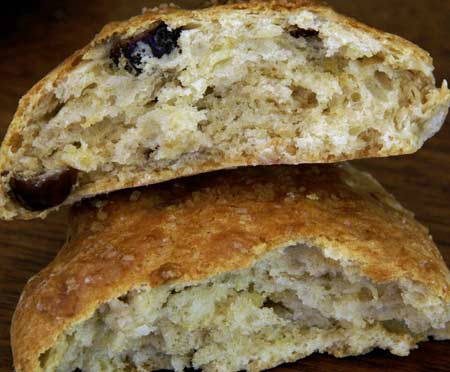 Cranberry-Oat Sourdough Scones
Yield: 8 larger or 12 smaller scones
Time:
Soak berries: 10 minutes
Mix: 10 minutes
Shape: 5 minutes
Bake: 23 minutes
Ingredients:
50 g dried cranberries
87 g white whole wheat flour
40 g oat flour
17 g  nonfat milk powder
1.5 t. baking powder
3/8 t. baking soda
5/8 t. salt
50 g sugar
1/2 t. finely-grated lemon zest (optional)
113 g (one stick) cold unsalted butter
40 g rolled oats
340 g mature 100%-hydration sourdough starter
milk and coarse sugar for topping
Method:
Preheat the oven to 400F.
Cover the cranberries with warm water and soak for 10 minutes, then drain well.
In the bowl of a food processor, place the flours, milk powder, baking powder, baking soda, salt, sugar, and lemon zest. Pulse a few times to combine.
Cut the cold butter into 1/2-inch cubes and add to the food processor. Pulse several times until the mixture resembles coarse cornmeal with a few larger (pea-sized) pieces of butter remaining.
Transfer the mixture to a bowl and mix in the oats and drained cranberries lightly with your fingers.
Add the sourdough starter and mix quickly and lightly with your hands just until the dry ingredients are incorporated into it. The dough will be wet and sticky.
Turn the dough out onto a well-floured counter and pat it into a rectangle about 5×9 inches for larger scones, or about 4×11 inches for smaller ones.
With a dough cutter, cut the dough into two rectangles (three for small scones), and each of those, on the diagonals, into four pieces.

Place the scones to a parchment-lined baking sheet. Brush with milk and sprinkle with coarse sugar.
Bake for about 23 minutes, until golden brown.