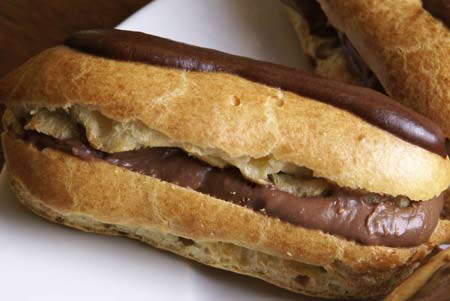 How do you go from cursing your pâte à choux to adoring it in 60 seconds flat? Here are the steps I used (YMMV):
Be delighted and excited about the challenge Meeta (What's For Lunch Honey?) and Tony (Tony Tahhan) have chosen for the August Daring Bakers challenge: Pierre Hermé's Chocolate Éclairs.
Plan to make the éclairs to take to work, where you are sure to have enough chocoholics around to summarily devour them.
Make the chocolate pastry cream and chocolate sauce for the glaze the night before, without incident. Plan to make the éclair shells that night also, but be too exhausted to do so safely.
Get up at 5AM. Make coffee.
Mix and pipe out the pâte à choux, still without incident. Get caught up in doing this so you forget to drink your coffee. Note that the piped dough fingers bear an uncanny resemblance to naked mole rats (sorry) lined up on the baking sheets.
Meanwhile, preheat the oven. Fail to notice that it takes considerably less time than it should to tell you it's reached 375F.
Pop the baking sheets in the oven. As instructed by the recipe, rotate them at 7 minutes and crack the oven door at 12 minutes. Note, but fail to be awake enough (remember, no coffee yet) to be concerned, that you still have mole rats.
Drink a few sips of that coffee. Check on the pâte à choux at about 18 minutes and see that the dough has not puffed at all. It is sweating and the tops are cracked a tiny bit, but no puff. Recall that when you made profiteroles (very successfully) three years ago you do not remember it taking this long. Begin to sweat a little yourself.
At 20 minutes, when the éclair shells are supposed to be fully baked, see that nothing has changed; something is wrong. Of course, the recipe must be bad. Bad bad bad pâte à choux! Worst pâte à choux ever! Swear and stomp your feet. Frantically look for the recipe you used for those profiteroles.
Reach in the oven to pull out the baking sheets and notice that something feels… off.  Hmm, shouldn't the oven be… what's the word you're looking for… it's coming to you, the coffee is starting to kick in… that's it, shouldn't the oven be, uh, hot?
Remember that you lack a functioning oven thermometer. Turn the oven off, and on again. This resets the oven into preheat mode, and displays the actual temperature as it's heating up. 247. This explains a lot.
Be fairly certain that all is lost for today; the oven is broken and anyway the pâte à choux is probably too dried out now to do anything but remain forever mole rats. But you have nothing to lose by giving both of them another shot. Leave the baking sheets in the oven while the oven continues to preheat.
Within one minute, see that the pâte à choux is puffing. Not a little, a lot, before your very eyes. Good bye mole rats, hello éclairs! Good good good pâte à choux! The little pâte à choux that could! Best pâte à choux ever!

Carry on without incident.
Take the éclairs to work, where, as predicted, they are a hit.
As always, my Daring Baker compatriots have done some incredible takes on these éclairs. Go now.