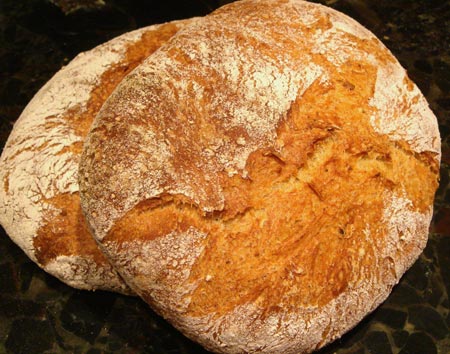 Cast of characters:
Act I, Scene 1
Hey, this month's Daring Bakers challenge is bread, woohoo! Tanna has chosen Tender Potato Bread from Home Baking by Jeffrey Alford and Naomi Duguid. And she's authorized us to make the recipe our own by seasoning and/or shaping it as we please. I've always wanted to make a fougasse. Now's the perfect time! Let's get started.
Hold on! Look, you're used to working with ingredients by weight, and these measurements are given by volume. And, you're used to using water to adjust the dough consistency, and the directions here say to do it with flour. You know you're morally obligated as a Daring Baker to follow the directions, except where the host explicitly says you can use your creativity. Plus, you've never made bread with potatoes before, sweet potatoes don't count. You don't know how this dough will behave. Maybe the first time through you should just follow the original recipe and bake it in loaf pans, or as focaccia. Wasn't it you who said you don't tweak a recipe the first time you make it?
I changed my mind. I want to be creative! I want to be daring! How hard can it be? Bring it on!
Fine, be that way.
Ho, look, the directions say "as a beginner, you may be tempted to add more flour than needed." Not me, I'm not a beginner, I would never do that! In fact, I'm going to use just the minimum amount called for, because I know how to handle wet dough. Six cups at 130 grams per cup, that's 780 grams.
You are such a cocky idiot. And FYI, the directions say six-and-a-half cups, not six. And how do you know they measure flour at at 130 grams per cup and not, say, 150?

[With fingers in ears] La la la, not listening, not listening!
Act I, Scene 2
This dough is pretty slack. Maybe a focaccia would be good.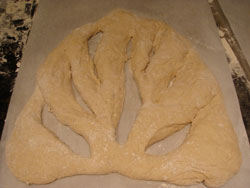 No! I said it would be fougasse and it will be fougasse! Shut up and divide the dough in half.
Um, look, the dough is sticking to your dough cutter. And now the cuts aren't staying open. You didn't use enough flour in the dough, and you didn't use enough flour on the dough when you patted it out before you cut it. Flour's not rat poison, you know!
Shut up and go get the cheese.
Act I, Scene 3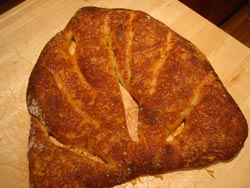 OK, I admit it tastes pretty good topped with smoked Gruyere. But it kind of looks like… oh never mind. Not to mention that it's huge. And a little salty. Maybe that's because, you know, you didn't use enough flour in the do––
Fine, we'll do it your way. We'll make it again, and this time we'll use plenty of flour to make for a nicely shaped fougasse, and we'll make them only half as big. So with the extra dough, let's throw in a couple of four-braids, I want to practice those.
[Sigh] Of course you do.
Act II, Scene 1
Hey look, another Daring Baker has come through with the weight equivalents of the ingredients, from the Dutch edition of the book. Hmmm… flour: 1000 – 1350 grams. I told you 780 grams was not enough!
That's all behind us now. Kindly mash these four potatoes.
These weigh 22 ounces. The directions say at most 16 ounces of potato. If you use too much the dough might be too slack again.
The directions say four potatoes. That's what we have here. I am asking you nicely to mash them.
But I thought we were doing things my way this time.

Shut up and mash.
Act II, Scene 2
You've been mixing that dough for 30 minutes! You're breaking a sweat. What gives?
I just need to mix in a little more flour, I think. There, I think that just about–– oh no, not quite yet. This dough's still too soft, I won't be able to braid it. More flour! Just a little more!
Forget the braid! You can have a couple of nice fougasses and a lovely batard. Stop already! You're kneading that dough into oblivion.

No! I said it would be a braid and it will be a braid. There, I think that about does it. I've used 1200 grams of flour, not even the maximum, so there!
Well good for you. It just took you twice as long as it should have to get it all in there. Now between the extra flour and the extra potato, you've got enough dough for a whole extra loaf!
Act II, Scene 3
Fougasses look pretty good. But your four-braids still need work. Look at that first one. What is it, still can't tell left from right, can't count to four, can't distinguish over from under? But then why bother with four-braids at all? Six-braids are so much easier, and prettier too.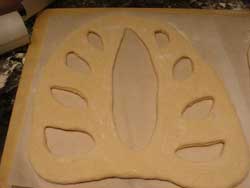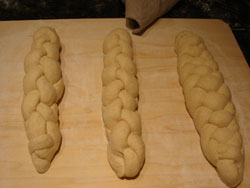 Oh come on, don't you think that mummy-shaped loaf on the right is cute? That's a new one I found in A Blessing of Bread by Maggie Glezer. And it's really very easy!
It's too flat. And too long and skinny.
Killjoy.
Act II, Scene 4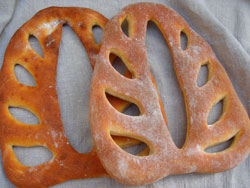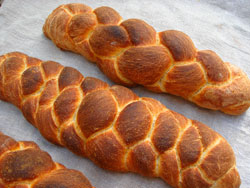 Smells like a baked potato in here! Maybe I can live with these. Let's cut one open.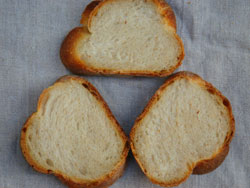 Dang! Really tight, not exactly tender. Guess I kneaded too long, and maybe a little too much flour.
You don't say.

Act III, Scene 1
So what have you gone and done now?
Nice soft dough, lightly seasoned with black pepper and garlic. Sixteen ounces of potatoes and just enough flour. No fancy shaping, just four simple boules, baked seam-side-up. Satisfied?
Why yes, it looks and tastes great.
Thank you Tanna! We'll be making this one again!