If you're moving across the country and want to take your sourdough starter with you, or want to mail some to a friend, or want to save a backup of a particularly well-loved starter as insurance against accidental loss, drying your starter can be the way to go.
Drying a liquid starter is simple and fast, and reviving it to baking strength takes less time, and is easier, than starting a new one from scratch.
Before drying your starter, make sure it is strong and vibrant. If you normally refrigerate it, take it out and feed it for a few days, as you would before using it in a dough.
When it is good and strong, feed it a final time, then ferment it for about half the time you would normally go until the next feeding. You want the yeast to have something left to feed on while they are falling asleep.
Then, using an offset spatula, spread a thin layer of starter on a piece of parchment, put it somewhere where it will be free from flying debris, and wait for it to dry completely. This will take approximately overnight, but the exact time will vary according to the hydration of your starter, how thickly your smear it, and the temperature and humidity in your house. Make sure it is completely bone dry, or you run the risk of mold.
Here's how mine looked just after spreading it out to dry: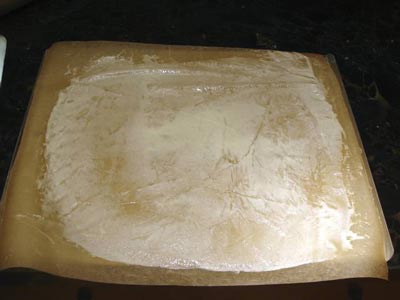 Here's how it looked after drying for 2 hours: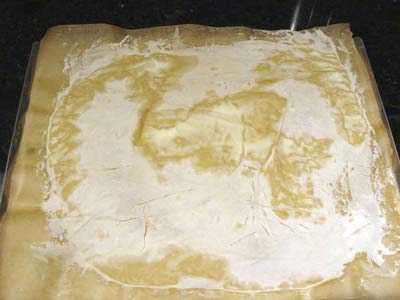 And here it is, completely dry after 12 hours: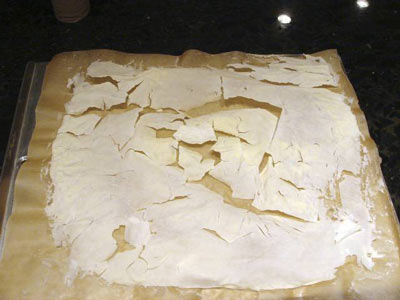 Now just put the pieces in a sealed bag and use a rolling pin to crush them to the approximate size of fish food flakes, or smaller, like this: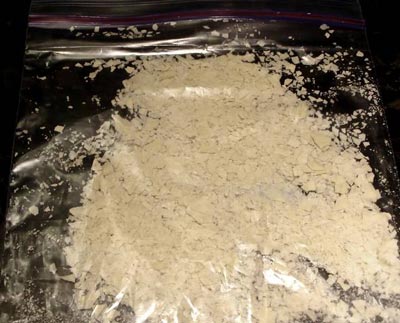 Store it in the refrigerator until you need it. I'm not sure how long it will keep, but I have successfully resuscitated one that had been chilling out for at least a year.
To revive the starter, the general idea is that you just start feeding it with flour and water, in the same ratio as the original. Here's the schedule I used; your mileage may vary:
To 3/4 teaspoon (about 2.5 g) of dried starter, add 20 g water; soak for 10 minutes.
Add 20 g flour; cover and ferment for 24 hours, until there are small bubbles indicating life. (The bubbles will be within and not necessarily on the surface; using a clear glass or plastic container helps you see them.)
Without discarding any of the above, add another 20 g flour and 20 g water; ferment for 12 hours and see bubbles on the surface.
Discard all but 15 g of the starter, and add 30 g water and 30 g flour. Ferment 12 hours.
Discard all but 15 g of the starter, and add 30 g water and 30 g flour. Ferment 12 hours.
Discard all but 10 g of the starter, and add 40 g water and 40 g flour. Ferment 12 hours.
At this point, at 72 hours, my starter was active and ready to use.