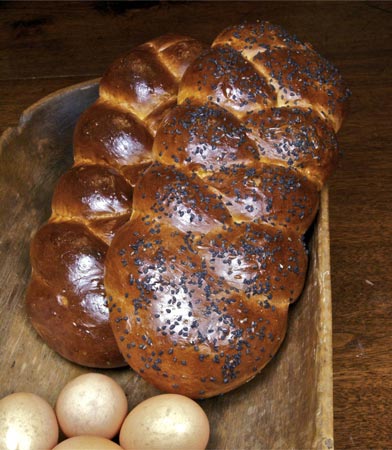 Potential.
Renewal.
Aphrodisiac.
Fertility.
Smooth.
Complete.
Fragile.
Strong.
Omelettes.
Soufflé.
Egg Bread.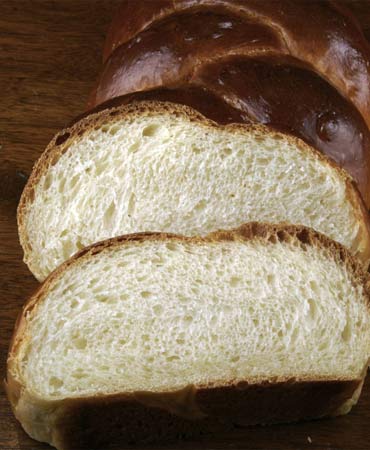 This egg bread is not as rich as brioche, and softer than challah. The crust is shiny and chewy, the crumb pillowy soft.
Because eggs symbolize the renewal and fertility of this beautiful season, this goes to Cynzia (Cindystar) and Zorra (1x umrühren bitte) for BreadBakingDay #19, Spring Breads.
A few notes on the recipe:
Pâte fermentée, (also called prefermented dough or old dough), adds flavor and strength to the dough. The pâte fermentée is refrigerated overnight after a brief fermentation at room temperature. If you use it directly out of the refrigerator, make sure you make your final dough water warm enough to compensate. My water was about 105F.
As with most doughs that contain a good amount of sugar, the sugar is added slowly to keep it from interfering with the development of the gluten. Don't rush this!
The dough is quite soft after the addition of butter and sugar. Refrigerating it after preshaping makes it easier to handle when forming the braids.
The strands for the braids are preshaped and shaped as for baguettes. I preshape into cylinders by flattening each piece of dough into a square, degassing gently. Then I fold the square into thirds like a letter, ending up with the seam on the bottom. When it's time to shape the strand, I flip the cylinder over so the seam is up and degas gently again before starting to shape.
If you're not familiar with how to shape a baguette, there are good written instructions at A Year in Bread. A slightly different technique is demonstrated by Danielle Forestier in this Julia Child video. (In the demo she only takes the dough to the thickness of a batard; a baguette would be further rolled out to a thinner diameter.)
Egg Bread
(Adapted from SFBI)
Yield: 1100 g (2 loaves)
Time:
Ferment pâte fermentée: one hour plus 8 – 12 hours in the refrigerator
Mix final dough: 15 minutes
First fermentation: one hour
Preshape, rest, and shape: 30 minutes
Proof: 2 hours
Bake: about 35 minutes
Desired dough temperature: 77F
Pâte Fermentée Ingredients:
Final Dough Ingredients:
358 g flour
161 g water
3.2 g instant yeast (1 t.)

7.2 g salt (1-3/16 t.)
14 g milk powder
all of the pâte fermenteé (358 g)
72 g eggs (this is about 1.5 eggs; beat lightly before weighing and save the other half egg for the egg wash)
72 g sugar
54 g butter, at room temperature
Topping Ingredients:
Method:
In a medium bowl, combine the pâte fermenteé ingredients. Mix with your hands until all the ingredients are well incorporated. You do not have to develop the gluten.
Cover and ferment the pâte fermenteé for one hour at room temperature, then refrigerate it overnight.
In a stand mixer with dough hook, combine the final dough ingredients flour, most of the water, yeast, salt, pâte fermenteé (cut into several pieces). Mix in low speed to incorporate the ingredients. Adjust the water as needed to achieve a medium dough consistency.
Continue mixing in medium speed for a few minutes, then add the sugar in about 5 increments, mixing for a minute or two after each addition.
Continue mixing until the gluten is fully developed. This might take about 10 minutes, but will depend on your mixer.
Add the softened butter all at once and mix in medium speed until it is fully incorporated.
Transfer the dough to a lightly oiled container. Cover and ferment at room temperature for one hour.
Turn the dough into a lightly floured counter. Divide it into 6 pieces. Preshape each piece into a light rectangle. Place the dough on a parchment-lined baking sheet, cover, and refrigerate for 20 minutes.
Shape the dough as for baguettes, about 12 inches long. Use 3 strands to braid each loaf.
Place the loaves on a single parchment-lined baking sheet. Brush them lightly with egg.
Cover and proof at room temperature for about 2 hours, until the dough springs back very slowly when pressed lightly with your finger.
Meanwhile, preheat the oven to 350F.
Just before baking, brush the loaves again with egg, and sprinkle with sesame seeds if you like.
Bake for about 30 – 35 minutes, until the crust is a deep, shiny brown.
Cool on a wire rack.