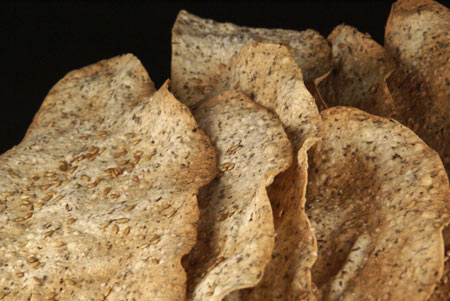 Chances are you can have these mixed, shaped, baked, and on the table before you can master saying "flaxseed flatbread" five times fast.
I've been a little busy this week and haven't had time to wait for yeast to do its thing, but unleavened flatbreads are an easy and quick way to still have fresh bread for dinner. These very crisp breads are adaptable to a wide variety of flour and flavor combinations, and are in fact a variation on the Sesame-Semolina Flatbreads I wrote abut a few months ago. Roll them in a pasta roller or with a rolling pin, as thinly as possible for maximum crunch.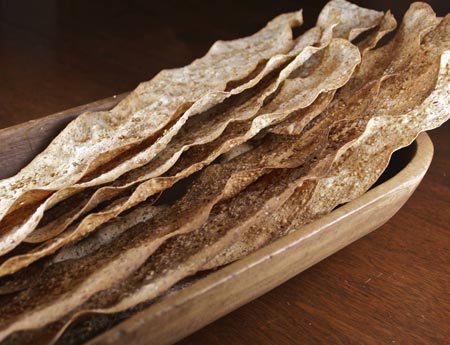 Flaxseed Flatbread
Yield: 8 – 10 large flatbreads
Time:
Mix/rest: 45 minutes
Roll/bake (total time for 8 flatbreads): 20 minutes
Ingredients:
150 g flour
45 g whole wheat flour (I used white whole wheat)
30 g finely-ground whole rye flour
20 g flaxseed meal
4.5 g (3/4 t.) salt
130 g lukewarm water
olive oil for brushing
flaxseeds and coarse Kosher salt for topping
Method:
Preheat the oven, with baking stone, to 450F.
Mix flour, white whole wheat flour, rye flour, flaxseed meal, and salt in a medium bowl.
Add water and stir to incorporate into the dry ingredients.
Turn dough onto an unfloured counter and knead for 3 minutes. Cover the dough and let it rest for 15 minutes.
Knead for another 2 minutes. Cover and rest for 20 minutes.
Divide the dough into 8 or more pieces and form them into balls.
Cut a piece of parchment paper the approximate size of your baking stone.
Roll a ball of dough through a pasta roller, starting with the thickest setting and adjusting the thickness setting down with each successive pass, to the desired thinness. Alternatively, roll out as thin as possible with a rolling pin.
Place the rolled flatbread on the parchment. Repeat with as many flatbreads as will fit on the parchment.
Brush the flatbreads lightly with olive oil and sprinkle with flaxseeds and a small pinch of Kosher salt.
Transfer the breads, parchment and all, onto the stone. Bake until the edges are nicely brown and rippled, and the tops have golden brown patches, about 3 or 4 minutes.
While one batch is baking, roll out the next batch.
Cool on a wire rack. Break into pieces to serve.