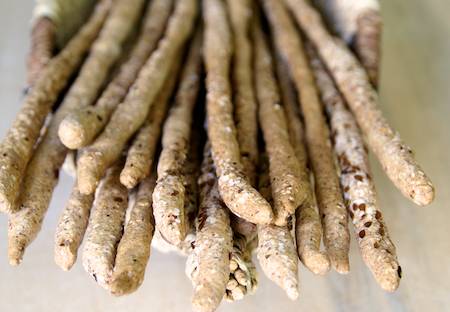 I've said it before: I love grissini. These thin, dry bread sticks are a perennial crowd-pleaser — rustically beautiful, always whimsical but never frivolous, a snap to make and (literally) to eat. Their flavor is eminently versatile, subject to the baker's inclination — the toss of a fennel or sesame seed here, the grind of a pepper mill there. I've made them plenty of times, sourdough or straight, and they've been toothsome and quick to disappear every time.
These are better, and I have the numbers to prove it.
I would not presume to say that the addition of ground flaxseed and a bit of rye flour to the dough make the grissini taste better, as that is a matter of, well, taste. My taste says they taste pretty fine. My daughter's taste says so, too.
But even if you disagree with our taste (and I don't think you will), numbers don't lie. Consider these numbers:
Alpha-linolenic acid (ALA) is an essential omega-3 fatty acid.
Dozens of studies have shown diets rich in ALA to be associated with beneficial health effects, including decreased risk of heart disease and some cancers.
The Institute of Medicine sets the adequate daily intake of ALA to 1.1 g for women and 1.6 g for men.
One grissino contains approximately one teaspoon of flaxseed, which provides 570 mg (.57 g) of ALA.
If you have two X-chromosomes, two grissini and you're covered, ALA-wise. For the other half of us, make it three.
So, bottom line? They taste good.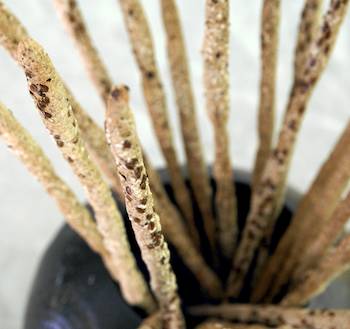 Flaxseed Grissini
Yield: 24 grissini
Time:
Mix: 5 minutes
First fermentation: about 1 hour
Shape: 10 minutes per sheet of 12
Bake: 30 minutes per sheet of 12
Dough Ingredients:
150 g flour
23 g rye or whole wheat flour
53 g ground flaxseeds (flax meal)
4.5 g (3/4 t.) salt
2.3 g (scant 3/4 t.) instant yeast
149 g cold water
11 g olive oil
Topping Suggestions:
coarse salt and coarsely-ground pepper, alone or with the addition of one or more of these:
whole flax seeds
whole or coarsely chopped fennel seeds (use sparingly as the flavor is strong)
sesame seeds
coarse semolina
…
and olive oil for spraying
Method:
In the bowl of a food processor with the metal blade, combine the flour, rye flour, flaxseed, salt, and yeast. Pulse to combine.
In a liquid measuring cup, combine the water and the olive oil. With the processor running, add the liquids to the dry ingredients in a thin stream.
Continue processing until the dough more or less holds together (it will not form a ball because it is too sticky at this point), and for about 30 seconds beyond that. The total processing time should be about 90 seconds.
Transfer the dough to a lightly oiled, covered container. Don't worry that the dough is sticky; it will become less so as the flax absorbs water over the fermentation period.
Ferment at room temperature until the dough doubles in volume, about one hour.
Meanwhile, preheat the oven to 350F and line two baking sheets with parchment paper.
Divide the dough into two pieces. While working with the first piece, cover and refrigerate the other.
On a lightly-floured counter, pat the dough into a rectangle of roughly 8 x 4 inches. The exact dimensions are not critical, but it should be uniformly thick.
Sprinkle the dough evenly with your choice of topping(s).
With a pizza cutter or chef's knife, cut the dough into 12 strips.

On a flour-free section of counter, roll each dough strip into a snake the length of your baking sheet. Space them evenly across the sheet.

Spray the grissini lightly with olive oil.
Bake for 25 – 30 minutes, until well browned.
Cool on a wire rack.