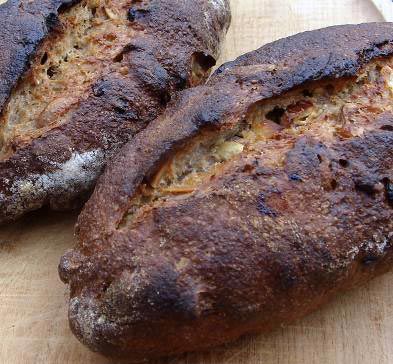 Okay, I know this is not a very appealing photograph. I do like it, though, because it illustrates a few things.
See the ultra-shiny crust? This illustrates what happens when you steam your bread too much. It's like shellac. Not really the effect I was going for.
See how dark the crust is? This illustrates what happens when you don't really remember how to operate your oven (this would be your occasional oven, not your most-of-the-time oven) and the oven display is broken so you have no visual clue that you're operating it incorrectly, and you haven't really turned the temperature down when you think you have. The very learned Raymond Calvel said it is nearly impossible to overbake bread. Maybe I should gain some satisfaction in knowing I nearly accomplished the near-impossible. (I say nearly because the crust did not burn. It's just very very dark. Again, not the effect I was going for; merely very dark would have sufficed.)
See how the resolution of the photo is not very good? This illustrates what happens when you do something brainless, the details of which you'd rather not get into at the moment, and end up wrecking your DSLR camera, and have to use your little point-and-shoot (and then have to crop the photo so the really dark parts of the loaves are conveniently omitted).
Okay, lessons learned: Don't pour too much water into the steam pan. Read The Fine Manual (and better yet, call the oven repair guy). And don't be stupid. Simple enough.
Now consider this photograph: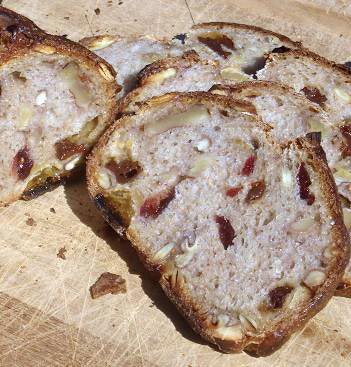 I like this one because it illustrates that even when a few things go wrong, you can still end up with a pretty nice, 50%-whole-grain, fruit-and-nut-laden, pleasantly-dense-and-chewy, thinly-sliceable, great-on-its-own-or-with-soft-cheese kind of loaf.
So there.
As proof that I really do like this bread, I'm sending it to Zorra (1x umrühren bitte) for BreadBakingDay #31, Bread with Nuts, in celebration of the third anniversary of BBD. Thank you for three years of this inspiring event, Zorra!
Nutty Fruity Sourdough
Yield: 700 g (two small loaves, or one large one)
Time:
Mix (including autolyse): 35 minutes
First fermentation : 2.5 hours with folds at 50 and 100 minutes
Preshape, rest, and shape: 35 minutes
Proof: 2.5 hours minutes
Bake: about 25 minutes (longer for larger loaf)
Desired dough temperature: 76F
Ingredients:
89 g flour
74 g whole wheat flour
74 g coarsely-ground whole rye flour
170 g water
118 g mature 100%-hydration sourdough starter
6 g (1 t.) salt
200 g mixed nuts, seeds and dried fruits (I used 40 g walnuts, 35 g pecans, 30 g pumpkin seeds, 35 g dark raisins, 30 g golden raisins, and 30 g cranberries.)
Method:
In a bowl, mix the three flours, the water, and the starter until roughly combined. Cover and let rest (autolyse) for 30 minutes.
Add the salt and mix briefly in the bowl. Then turn the dough out onto an unfloured counter and mix by hand until the dough reaches a low-medium level of gluten development. The dough will be sticky but you should be able fold it into a smooth-surfaced ball:

Note that the volume of dough seems small compared to the volume of fruits and nuts. This is correct!

Fold in the fruits and nuts and continue mixing by hand until they are evenly incorporated. The dough will be sticky.


To illustrate the stickiness of the dough, as evidenced by the mess on my hand, I washed one hand to take the picture. If you're thinking this was a pain, it was. This is what I do for you. You're welcome.

Transfer the dough to a lightly oiled container. Cover and ferment for 2.5 hours, with folds after the first 50 and 100 minutes.
Turn the dough into a lightly floured counter. Divide into two pieces. Preshape them into balls and let rest, covered, for 30 minutes.
Shape the dough into small batards and place them, seam-side-up, in a floured couche or linen-lined baskets.
Proof, covered, for 2.5 hours, or until the indentation left by a fingertip springs back very slowly.
Meanwhile, preheat the oven, with baking stone, to 475F. You will also need steam during the initial phase of baking, so prepare for this now.
Just before baking, slash the loaves as you like.
Once the loaves are in the oven, reduce the temperature to 450F. Bake for 5 minutes with steam, and another 15 minutes or so without steam. Then turn off the oven and leave the loaves in for another 5 minutes, with the door ajar.
Cool on a wire rack.