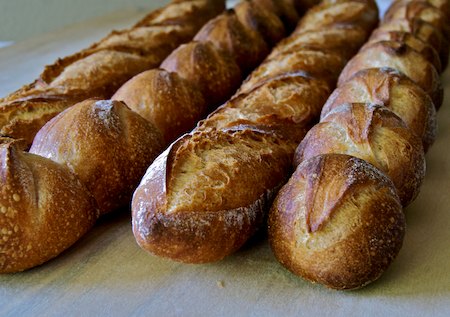 These baguettes were made with a small amount of diastatic malt powder. Perfectly good bread is possible without malt, but in some cases it can help your bread be just that much more lovely.
Malt contains several enzymes; the most significant to bread bakers is amylase, which breaks down the starch in flour into simple sugar. Sugar is important for two primary reasons: it is what yeast eats (so fermentation would not be possible without it) and caramelization of sugar contributes greatly to a rich crust color. Most white flours have malt added at the mill, and even when they do not, both amylase and simple sugars are present naturally in wheat flour, so you can get fine results without adding more malt to the dough at mixing time.
However, when dough has a long fermentation, the yeast consumes a lot of sugar, since it grazes pretty much constantly. This means there is less sugar left over for caramelization of the crust, so the crust color might be paler than you'd like. For doughs with preferments (such as the poolish used in these baguettes), where a portion of the flour is fermented over several hours, the addition of amylase in the form of malt can make the crust a bit nicer. You might also add some to your dough if you are baking with unmalted flour.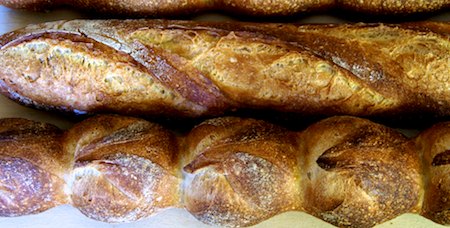 Malt is made from sprouted grain, usually barley. When grain sprouts (i.e., begins to germinate a new plant), production of amylase ramps up to convert the grain's stored carbohydrate, starch, into sugars that the little plant will need to grow. Malt is available in both diastatic (enzymatically active) and non-diastatic forms. The malt we're interested in here is diastatic malt. (Non-diastatic malt, whose enzymes have been deactivated during processing, is used as a sweetener, most notably for bagels.)
It is possible to make your own diastatic malt from grain you sprout yourself, but I haven't tried this yet. Diastatic malt powder is available from online sources such as King Arthur Flour.
Diastatic malt powder is typically used in small amounts, between 0.1% and 0.5% of the flour weight. Too much can cause the crust to take on an undesirable red color and the texture to become gummy. Especially if you are adding malt to compensate for unmalted flour, some experimentation may be necessary to figure out the optimal amount, since different flours have different inherent amounts of enzymes and simple sugars.
For this bake, I shaped some traditional baguettes and some "dragon tails," which are a fun variation. I didn't take good shaping photos, though, so I'll post the shaping instructions if I photograph more successfully next time I make them. For the traditional ones, these scoring tips might be helpful, as well as this video on how to use a flipping board. The dough also makes fine boules and batards.
Baguettes with Poolish
(adapted from SFBI)
Yield: 1050 g (three 350-gram baguettes or two larger loaves)
Time:
Ferment poolish: 12 – 15 hours
Mix: 10 minutes
First fermentation : 1.25 hours
Divide and preshape: 10 minutes
Bench rest: 30 minutes
Shape: 10 minutes
Final proof: 1 – 1.25 hours
Bake: 22 minutes
Desired dough temperature: 75F
Poolish Ingredients:
Final Dough Ingredients:
425 g flour
219 g water
3 g (1 t.) instant yeast
12.7 g (2-1/8 t.) salt
3.2 g (2/3 t.) diastatic malt powder
All of the poolish
Method:
In a bowl, combine the poolish ingredients. Cover and let ferment for 12 – 15 hours, or until the surface is creased and pebbled with bubbles.
In the bowl of a stand mixer with dough hook, combine all of the final dough ingredients except about 10% of the water. Mix on low speed to incorporate the the ingredients, adjusting the water as needed to achieve a medium dough consistency.
Continue mixing to a low-medium level of gluten development. How long this takes will depend upon your mixer.
Transfer the dough to a lightly oiled container. Cover and ferment at room temperature for about an hour and 15 minutes.
Turn the dough into a lightly floured counter. Divide into three pieces (or four, if your oven cannot accommodate baguettes 20 – 22 inches long). Preshape each piece into a cylinder, cover, and let rest for 20 – 30 minutes.
Shape the dough into baguettes and place them in a lightly-floured couche.
Proof, covered, for about an hour to an hour and 15 minutes, or until the indentation left by a fingertip in the dough springs back very slowly.
Meanwhile, preheat the oven, with baking stone, to 475F. You will also need steam during the initial phase of baking, so prepare for this now.
Just before baking, score the baguettes.
Once the loaves are in the oven, reduce the temperature to 450F. Bake for 7 minutes with steam, and another 10 minutes or so without steam. Then turn off the oven and leave the loaves in for another 5 minutes, with the door ajar, to let the loaves dry for a crisp crust.
Cool on a wire rack.