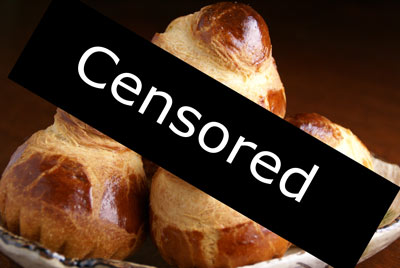 The following open letter to Google may contain objectionable adult content. Reader discretion is advised.
Dear Google,
Thank you. You have lifted a veil from my eyes, and made me see what a truly loose woman I have apparently become.
When I discovered that not one, not two, but all of my photos are censored from Image Search with SafeSearch enabled, I admit I was baffled at first. All along I wanted this to be, and thought it was, a family blog. My mother reads it, and so do my kids. Now that I see, with your wise and perspicacious guidance, the lasciviousness I have so foolishly and publicly permitted myself to exhibit, I don't know how I'll be able to look them in the eye again. Never mind go to PTA meetings. And God help me if I ever decide to run for public office.
Like I said, I was baffled at first. But then, after a good night's sleep (and I do mean sleep in the "not awake" sense, just to be clear), I sat down to take a look at my blog through fresh, objective eyes — through Google eyes, if you will — and I must say I was shocked at what I saw. The more I looked, the more lewdness I found. Oh, the shame!
Sure, at first glance this may appear to be an innocuous shot of brioches à tête…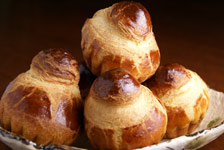 … but look again with Google eyes, and it turns out I'm not quite the little innocent I thought I was: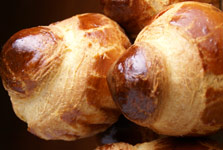 Then there's this one. What was I thinking?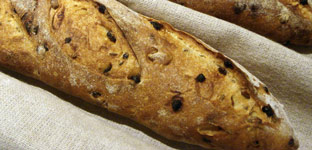 And the photos are just the tip of the iceberg. Oh yes, there's so much more of which I am guilty! I post buns, tarts, and cheesecake. I have been known to reference naked mole rats, issue an invitation to kiss my ciabatta, and link to Chefs Gone Wild. I score almost every day, sometimes half a dozen times or more. My sourdough starter is mature, and my oven is hot, steamy, and turned on for hours at a stretch.
Honestly, I didn't mean to let things get out of hand like this. I really don't know what happened. I suppose it all started with a couche or two and it was just a slippery-slidey slope from there.
I'd like to say that now that I see the error of my ways, I'll repent and clean up my act, but I have a feeling it's too late for me. The truth is, although I blush to even think it, I'm strangely drawn to all this wickedness I never realized I had.
So I guess I won't be showing up in Safe Image Search any time soon. But hey, no hard feelings, OK Google? Just to show we're still friends, you're welcome to drop on over any time and bite my miche.
Hugs and kisses (XXX),
Susan