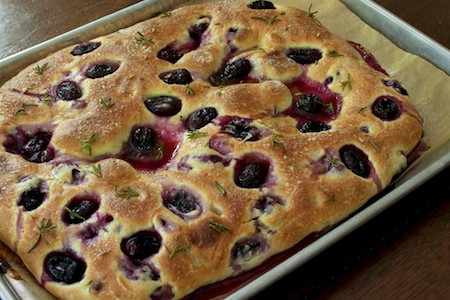 I always feel a little presumptuous posting about regional breads, especially ones that are new to me. On the other hand, limiting myself to writing about breads that I've known intimately since childhood would mean an entire blog about Pepperidge Farm White Sandwich and Dutch Dill breads, and that might get old fast.
I hope it's understood that most of what I write here about new breads comes from what I can glean from travels with my virtual surfboard and a fairly good sampling of bread books like these. I also hope it's understood that I welcome anyone who has any firsthand knowledge of these things to correct, expand upon, or otherwise edit my neophytic commentary. I particularly invite my Italian friends to chime in on this one.
That said, here's what I think I know about schiacciata:
Schiacciata is a Tuscan flatbread, similar to — or is it a type of, or another name for? — focaccia.
Schiacciata is pronounced something like skya-CHA-ta, and means "crushed" or "squashed" in Italian.
Schiacciata can be plain or filled with fruit, vegetables, meat, or cheese.
Grape schiacciata (schiacciata con l'uva) is a traditional version that celebrates the Tuscan grape harvest. It typically uses wine grapes (with seeds). I used seedless black grapes.
Schiacciata can be made as a rich, sweet pastry with eggs and lard, or as a rather lean dough. The one I made contains just a little sugar and olive oil in the dough, and a little more on top.
Anise seed is not an uncommon addition to sweeter versions of schiacciata. Fennel seed, which I used, seems to be less common but not unheard of.
I did not find semolina to be an ingredient in any of the schiacciata recipes I looked at. I included some in mine because I like the hint of golden color and nutty flavor it adds to dough, and because I'm wild like that.
Grape Schiacciata
Yield: one 12 x 15-inch flatbread
Time:
Infuse olive oil: one hour
Mix: 10 minutes
First fermentation : one hour
Proof: one hour and 10 minutes (with garnishing done halfway through this time)
Bake: about 25 minutes
Desired dough temperature: 75F
Ingredients:
340 g flour
100 g semolina flour
260 g water
3.2 g (1 t.) instant yeast
6 g (1 t.) salt
26 g (2 T.) granulated sugar
72 g (1/3 c.) olive oil
leaves from 5 sprigs fresh rosemary
1 g (1/2 t.) fennel seed, coarsely chopped
400 g seedless black grapes
a few additional whole fennel seeds for topping
Method:
Gently crush the rosemary leaves with your hand, and add them to a small bowl with the olive oil. Let rest for about an hour, then strain the oil and reserve the rosemary.
In a medium bowl, combine the flour, semolina flour, yeast, salt, chopped fennel seed, 13 g (1 T.) of the sugar, 28 g (2 T.) of the infused oil (reserving the rest), and most of the water. Mix with your hands in the bowl until roughly combined.
Turn the dough out onto an unfloured counter and continue to mix (knead) with your hands for about 5 minutes, until the dough reaches a medium level of gluten development. Early during this time, adjust the water to achieve a medium-soft dough consistency.
Flatten the dough into a disk, spread about 300 g of the grapes onto the dough, and fold the dough repeatedly until the grapes are evenly distributed throughout. Do this gently to keep grape-crushing to a minimum.
Transfer the dough to a lightly oiled container. Cover and ferment for one hour at room temperature.
On a parchment-lined baking sheet, press and pat the dough into a rough rectangle, about 12 by 15 inches.
Proof, covered, for about 35 minutes at room temperature.
Press the remaining 100 g of grapes into the surface of the dough. Brush generously with some of the remaining infused oil and sprinkle with the remaining 1 T. sugar, a few whole fennel seeds, and a few of the reserved rosemary leaves.

Continue to proof, covered, for another 35 minutes.
Meanwhile, preheat the oven to 425F.
Bake the schiacciata for about 25 minutes, until the crust is golden brown and the grapes are starting to burst and ooze purple juice.
Cool on a wire rack, or serve warm.