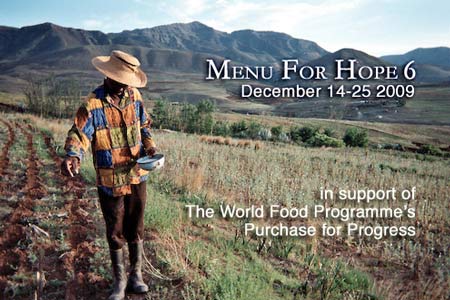 It's that time of year! Once again, I am honored to be a part of Menu for Hope, the international food blogging community's annual fundraising event to benefit the United Nations World Food Programme. This is a unique opportunity to donate to a most worthy cause while bidding on some fantastic culinary raffle items.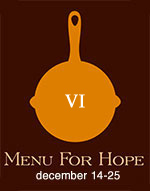 Proceeds from this campaign will go to a new WFP initiative, Purchase for Progress, which gives small farmers a market for their surplus crops at competitive prices in their own developing countries. Since its inception, Menu for Hope has raised over $230,000. Please help extend this stunning success by giving as generously as you can.
Each $10 you donate to Menu for Hope between now and December 25 gets you one chance on your choice of bid items from an incredible lineup hosted by food bloggers around the world. The more you donate, the more virtual raffle tickets you earn, and the greater your chances of winning.
You may bid on any items you like, but I'm pretty sure you won't be able to resist mine, both very generously donated by the San Francisco Baking Institute:
UW18: A 2-Day Artisan Baking Workshop, or 40% off a 5-Day Workshop, at SFBI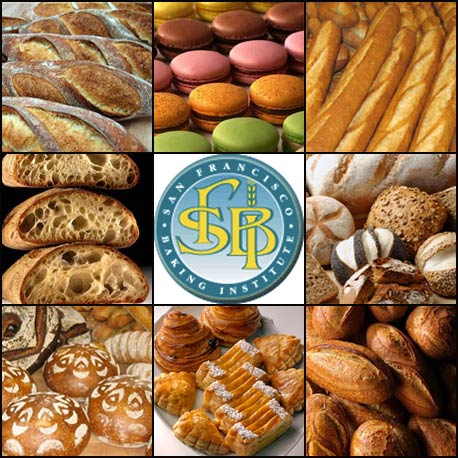 SFBI is the only school in the US dedicated exclusively to artisan bread and pastry baking (and also happens to be where I'm spending a very large chunk of my time these days).
If you win this item, select any 2-day workshop (or get 40% off any 5-day workshop) that SFBI offers in 2010, on a space-available basis.
Choose from weekend classes on baguettes, sourdough, French macarons, and more, or go for a week-long introductory or advanced artisan baking course. Check out the SFBI course calendar for a complete list of offerings.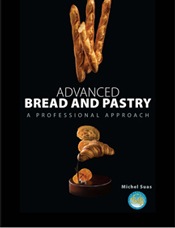 UW19: Advanced Bread and Pastry
If you can't make it to the school for a course, SFBI founder Michel Suas' book is the next best thing to being there. He'll even sign it for you.
This incredibly comprehensive text lays out the theoretical and practical foundation you will need in order to understand and execute its 300 or so bread and pastry formulas, many of which are staples of the SFBI curriculum.
From baguettes, bagels, and brioche to chocolate, ciabatta, and Chartreuse marshmallow lollipops, it's all in here. Prepare to be inspired!
Here's what to do:
Decide which bid item(s) you would like to win. The codes for my items are UW18 (workshop) and UW19 (book). Or browse the selection of other bid items and make a note of the codes of those that interest you.
Go to the donation site at FirstGiving and make a donation.
In the Personal Message box on the donation form, specify how you'd like to "spend" your donation, at $10 per virtual raffle ticket. For example, for a $50 donation you could say "3xUW18 and 2xUW19."
If your employer has a matching gift program, please check that box and fill in the information so the corporate match can be claimed.
Check the box allowing the Menu for Hope organizers to see your email address, so you can be contacted if you're a lucky winner. Your address will not be shared with anyone else.
Winners will also be announced on Chez Pim on January 18.
Chez Pim, Menu for Hope's organizer, has the complete list of incredible bid items. You can also check out bid items at each regional host blog:
West Coast USA: Gluten-Free Girl
East Coast USA: Tartelette
Canada: Seven Spoons
Europe and UK: David Lebovitz
Asia Pacific, Australia, New Zealand: Tomato
Wine Blogs: Vinography
Bid early, bid often, be generous!
Thank you.