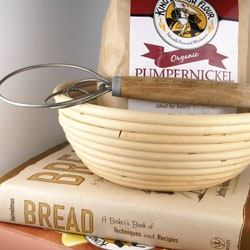 I just wanted to remind all you procrastinators that time's running out to get your Menu for Hope donations and raffle bids in. If you haven't put a ticket in for my King Arthur Flour $100 gift certificate (prize code UW04), now would be a good time. How about a couple of brotforms, Hamelman's Bread (my favorite bread book), or a digital scale?
Now I have a little hope of my own: that some of you kind people will steer me in the direction of a foolproof recipe for boneless leg of lamb, which I have never cooked before but somehow thought that Christmas dinner would be the ideal time to learn. At least it seemed like a good idea last month when I put the lamb order in to my meat CSA. Because, you know, the holiday shopping and decorating and baking and partying don't occupy nearly enough of my bandwidth, and cooking the second most important meal of the year for three times as many people as I usually cook for is always the best time to try new things, and waiting until the last minute to figure this sort of thing out is just… well, it's just me.
So here's a deal for you: the first ten commenters to give me a recipe link or constructive advice for "lamb for people who don't know how to cook" by noon (PST) tomorrow will get one extra virtual Menu for Hope raffle ticket, on me. Just indicate the 4-character code of the prize you'd like it to be for (prize codes are here), and I'll buy a ticket for it, and if I win it, it's yours. (But please make it something other than my prize, because I don't think I should bid on my own.) Check out the list of prizes if you don't have all the codes committed to memory by now.
So how about it? Will you help make Menu for Hope, and my Christmas dinner, a success?