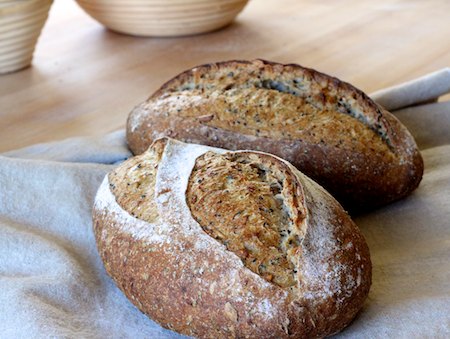 After taking an inventory of my pantry, refrigerator, and freezer and finding no fewer than 19 flours, 13 other grain products, 8 seeds, and 7 nuts, I decided I had better start using some of this stuff up.
I made a variation on my seeded multigrain sourdough, using up my remaining pumpkin seeds, some of my flax seeds and rolled rye flakes,  and what I thought was just a few of a little black seed called nigella. The package was opened, so I must have used them before, but I'll be damned if I know what for. I certainly didn't remember what a punch they packed. Although these tiny black seeds are in the minority weight-wise (and although the other ingredients do add flavor complexity), their peppery taste is front and center in this bread.
Despite their assertiveness, if I weren't so prone to shooting first and asking questions later, I might have used even more of these seeds in my bread, because they have been reported to heal every disease except death. That's a confident statement if I ever heard one. But now that I think about it, I'm feeling pretty chipper right about now.
Serving suggestion: Roast beef sandwich; skip the horseradish.
I'm sending this bread to Weekend Herb Blogging, hosted by Cindystar, managed by Cook Almost Anything, and founded by Kalyn's Kitchen.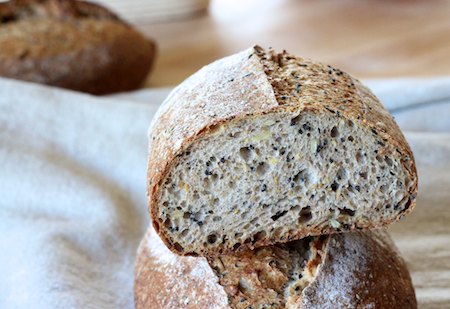 Multigrain Nigella Seed Sourdough
Yield: 1000 g (2 loaves)
Time:
Soak soaker: 30 minutes
Mix final dough: 10 minutes
First fermentation : 2.5 hours with folds at 50 and 100 minutes
Preshape, rest, and shape: 35 minutes
Proof: 2.5 – 3 hours
Bake: 45 minutes
Desired dough temperature: 78F
Soaker Ingredients:
28 g nigella seeds
34 g rye flakes
39 g pumpin seeds
33 g golden flax seeds
86 g water
Final Dough Ingredients:
240 g flour
93 g whole wheat flour
41 g coarsely-ground rye flour
227 g water
9.4 g salt
169 g active 100%-hydration sourdough starter
All of the soaker
Method:
In a bowl, combine the soaker ingredients. Cover and let rest for about 30 minutes.
In the bowl of a stand mixer with a dough hook, combine all of the final dough ingredients except the soaker, holding back a small amount of the water. Mix in low speed to incorporate the ingredients. Adjust the water as needed to achieve a medium dough consistency.
Continue mixing to a medium level of gluten development.
Add the soaker and mix in low speed until it is evenly distributed through the dough.
Transfer the dough to a lightly oiled container. Cover and ferment for 2.5 hours, with folds after the first 50 and 100 minutes.
Turn the dough into a lightly floured counter. Divide into 2 pieces. Preshape into balls and let rest, covered, for 30 minutes.
Shape the dough into pointed batards and place them, seam-side-up, in a floured couche.
Proof, covered, for 2.5 – 3 hours, until the indentation left by a fingertip springs back slowly.
Meanwhile, preheat the oven, with baking stone, to 500F. You will also need steam during the initial phase of baking, so prepare for this now.
Just before baking, slash with one or two slashes along the long axis of each loaf.
Once the loaves are in the oven, reduce the temperature to 450F. Bake for 10 minutes with steam, and another 25 minutes or so without steam. Then turn off the oven and leave the loaves in for another 10 minutes, with the door ajar.
Cool on a wire rack.