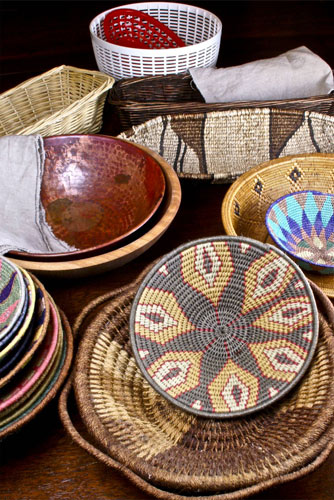 A while ago I wrote about brotforms, the German coiled cane proofing baskets that leave a spiral pattern on the crust of your loaf. What if you don't have a brotform, or don't want that spiral pattern? A banneton, French cousin to the brotform, is a woven wicker basket that usually has a linen fabric liner sewn into it.
A basket provides support for a proofing loaf; the linen liner reduces sticking and yields a smoother crust than an unlined basket. While I do proof most of my boules and batards in linen-lined baskets, they're not official bannetons. Instead, I use loose pieces of natural unbleached linen that I lay inside of whatever basket or other vessel I want to use use for proofing. This works very well and has quite a few advantages over sewn-in liners:
It's flexible. Any basket or bowl can be used; you don't need special "proofing baskets." I have been known to use decorative wicker or sisal baskets; the basket from my salad spinner; plastic chip baskets; and salad and mixing bowls made from wood, ceramic, plastic, or metal. Whatever size you need, you probably already have it around the house. Of course if you already have a brotform, you can lay a linen liner in that too, if you feel like it.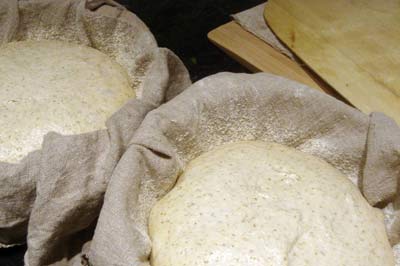 Sticking issues are reduced. Sometimes a sticky dough wants to glue itself even to floured linen. Being able to invert a loaf-and-linen unit out of the basket and onto your baking peel, and then gently coaxing the fabric away from the dough, is infinitely easier than awkwardly trying to pry a recalcitrant boule out of a basket.
The linen is easier to flour. Do you have trouble flouring the sides of your proofing baskets because the sides are too steep? Try this: lay a piece of free linen flat across the top of the basket, flour it in that horizontal position, then place the shaped loaf in and let the loaf conform the linen to the basket.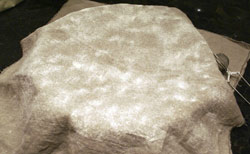 The linen is washable. Although I don't usually wash my linens, I can do so easily if I need to. When the linen is sewn to the basket, nothing doing. (Generally I just brush away excess flour and hang the linen to dry before storing.)
It's inexpensive. One yard of 54-inch-wide fabric makes six 18-inch squares, a good size for most uses. I couldn't find any natural linen (you want undyed, to be food-safe) in my local fabric stores, so I ordered from fabrics-store.com, at about $15 for a yard, including shipping. (I washed it and sewed a zigzag machine stitch around the cut edges of each piece before using them.) And if for some reason you don't have a single suitable bowl or basket lying around the house, you can get wicker baskets for a couple of bucks at most craft supply stores.
So there you have it, the frugal baker's version of the banneton. Now go forth and proof!