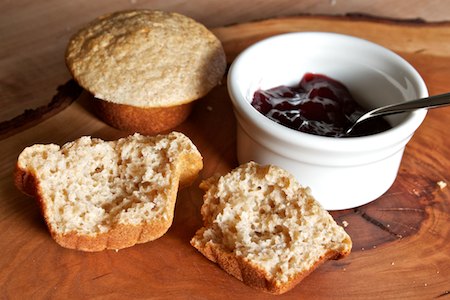 It's Tuesday night and I can't make bagels. I want to make bagels, I have all the ingredients for bagels, and I love making bagels. But after putting in a full day of work, my energy is sapped and I can't face rolling 18 bagels and then staying up for another three or four hours waiting to put them into the fridge overnight. What I need is to mix, bake, and go to bed. (Well, OK, I might sneak an episode of Breaking Bad in there somewhere.)
Mix, bake, sleep… sounds like muffins to me. Sourdough, of course. And using some of that big bag of oat bran that stares me in the face every time I look at the pantry shelf seems like a good idea, too. Sourdough oat bran muffins are not in my repertoire, but what the hell, I'll just try something. At worst, I'll have lost 30 minutes and 63 cents' worth of oat bran, and I can go to bed saying I tried.
Believe me when I say a new recipe almost never works for me on the first attempt, but these are actually pretty good! They have the texture I appreciate in a muffin — coarse and chewy and nothing like a cupcake. The 15-muffin batch size is a bit unconventional, but I can live with that. And they're rather plain looking, aren't they?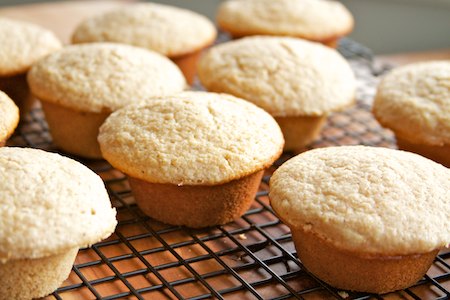 But they really do taste very good, although I can imagine all sorts of ways they could be spruced up with the addition of nuts, fruits, spices, gumball machine rings, etc. What are your ideas? Share them in the comments, or better yet, bake up your own take on these very easy muffins and send me a photo and a link to your recipe (must include sourdough starter and oat bran!). If I have any takers, I'll post them in a roundup in a couple of weeks.
Oat Bran Sourdough Muffins
Yield: 15 muffins
Time:
Mix: 10 minutes
Bake: 20 minutes
Ingredients:
116 grams oat bran
168 grams whole wheat flour
20 grams (4 1/3 teaspoons) baking powder
1.5 grams (1/4 teaspoon) salt
60 grams nonfat milk powder
200 grams sugar
336 g mature 100%-hydration sourdough starter
108 grams egg (2 large whole eggs)
42 grams olive oil
8.4 grams (2 teaspoons) vanilla
122 grams unsweetened applesauce
256 grams water
Method:
Preheat the oven to 400F.
Spray, oil, or butter 15 muffin tin cups, or line them with paper liners. Also spray the top surfaces of the tins so the muffin tops won't stick.
In a large bowl, combine the oat bran, whole wheat flour, baking powder, salt, milk powder, and sugar
In a medium bowl, whisk together the starter, eggs, olive oil, vanilla, applesauce, and water.
Add the starter mixture to the dry ingredients and stir just until combined.
Fill the prepared tins all the way to the top.
Bake for 20 minutes, or until a bamboo skewer returns clean.
Cool in the tins for 5 minutes, then remove from the tins and cool completely on a wire rack.