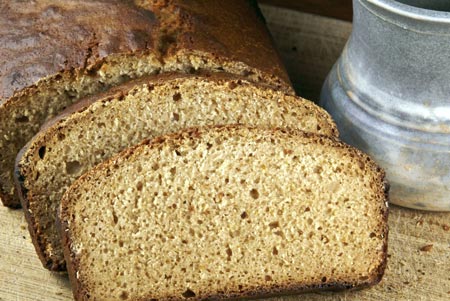 The challenge for this month's BreadBakingDay #18, hosted by Mansi (Fun & Food Blog) and Zorra (1x umrühren bitte), was Quick Breads. When I think of "quick bread" I usually think of a giant loaf-shaped muffin, not really a bread at all. Not that there's anything wrong with that, but I wanted a bread. Or as close as you can get to bread without involving some sort of yeast.
I thought of soda bread, but with Saint Patrick's Day well over by the time I got to doing this, it just didn't seem right. I scanned my books and settled on Pain d'Épices from Nick Malgieri's A Baker's Tour. The recipe contains no fat whatsoever (no eggs, no butter, no oil, no milk) so I knew it would not bear much resemblance to a muffin. What I wasn't quite prepared for was how much I would love this.
There's no question that this a very homely looking loaf, but the plain-Jane appearance belies its seductive nature. The flavor derives mainly from anise, complimented by mustard powder and cinnamon, and from honey. I'm going to be living and breathing that anise-mustard-cinnamon-honey combination for quite some time to come. I'm going to be sleeping with it and injecting it into my veins. If I run out, I'm going to be trading my first-born child for it. Really.
This a dense bread, and Malgieri suggests wrapping the loaf in foil for a day or two before serving, to make it more tender. That's fine if you're the patient type. Or you can just do what I did, and dip it in your coffee or tea for instant tenderizing; the bread is substantial enough to take it. You may never eat biscotti again.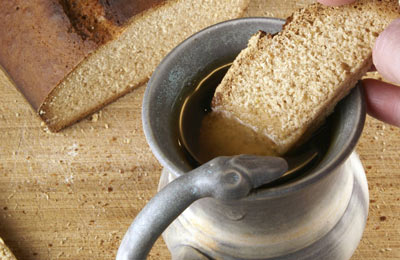 Pain d'Épices
(adapted from A Baker's Tour by Nick Malgieri)
Yield: one 9 x 5-inch loaf
Ingredients:
355 g all-purpose flour
3 g (1 t.) ground or crushed anise seed
2 g (1 t.) dry mustard
2 g (1 t.) cinnamon
13 g (2.5 t.) baking powder
3 g (1/2 t.) salt
227 g water
130 g sugar
232 g honey
1.5 t. finely-grated orange zest
Method:
Preheat oven to 375F, with rack in the center.
Butter a 9 x 5-inch loaf pan and line the bottom with parchment paper.
Sift together the flour, anise, mustard, cinnamon, baking powder, and salt.
In a medium saucepan, combine water and sugar. Place over medium heat until the sugar is dissolved and the syrup comes to a simmer.
Remove from the heat and stir in the honey and orange zest.
Sift half the dry ingredients mixture into the syrup, 1/4 cup at a time, whisking to combine after each addition. Sift in the remaining dry ingredients, again 1/4 cup at a time; fold in each addition with a spatula.
Pour the batter into the prepared pan and bake for about an hour, until a toothpick inserted in the loaf comes out clean.
Cool on a wire rack in the pan for 10 minutes; then de-pan the bread and cool completely before wrapping in foil.
Age for a day or two before serving (or not).