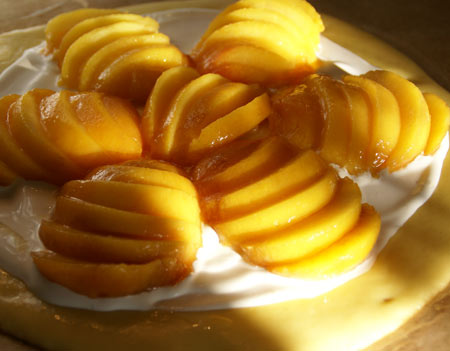 Last Sunday's baking was some brioche-crusted peach tarts. Just as the first one was ready to go into the oven, the early morning sun came streaming in through my dining room window.
I thought the streaks of light falling across the yellow fruit on yellow dough evoked the hopeful theme of Click! Yellow for Bri. This month, the photo event hosted by Jugalbandi supports a fundraiser for Brianna Brownlow (Figs With Bri). Please go read about it and donate now if you haven't already. The tart will be here when you get back.
This is what the baked tart looked like: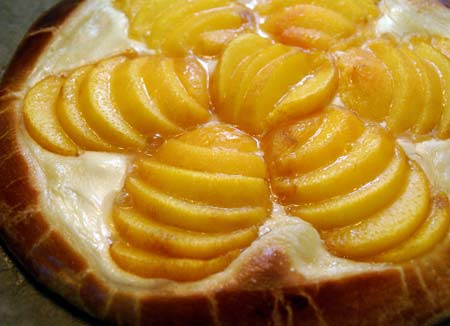 The tart is very simple in construction: a disc of brioche dough spread with a thin layer of crème fraîche and topped with sliced fresh peaches. This is a great way to eat brioche because, as a crust, a little goes a long way. Although the butter content of the dough is quite high, the tart overall is not what I would call very rich, nor is it terribly sweet.
The tart can be adapted in many ways. Other fruits could be used; I have made one with pears, and I think cherries would also be delicious. I like the way the tartness of the unsweetened crème fraîche compliments the brioche and peaches, but you could use pastry cream or other filling if you're after something a bit sweeter, or to add another flavor into the mix. Please leave your ideas in the comments!
The mixing of brioche dough is similar to that of panettone and other sweet rich doughs. Because both sugar and butter interfere with gluten development, the key is to add the sugar very slowly, and the butter only after the gluten has been fully developed.
The brioche recipe, which is adapted from one I learned at SFBI, calls for osmotolerant instant yeast (SAF Gold). This yeast performs well in a high-sugar, low-water dough. Normally, sugar interferes with fermentation of the dough because it pulls water away from the yeast, slowing down its metabolism. If you don't have osmotolerant yeast, use regular instant.
The dough recipe makes enough dough for two tarts, or one tart plus about six small brioches à tête (the shaping of which, as you can see, I'm not very good at and I will leave as "an exercise for the reader").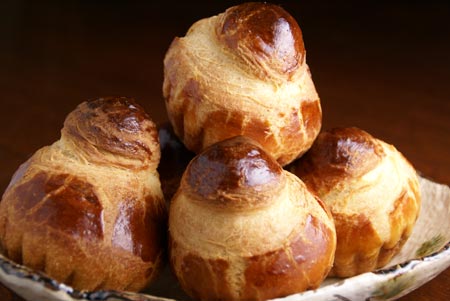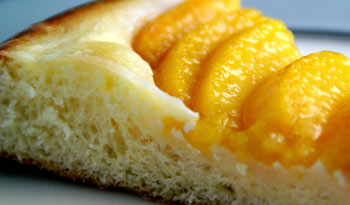 Peach Brioche Tart

Yield: one 10-inch tart
Time (not including the mixing and first fermentation of brioche dough; see below):
Shape: 10 minutes
Proof: 1.5 – 2 hours
Assemble: 10 minutes
Bake: 15 – 20 minutes
Ingredients:
330 g brioche dough (recipe follows) that has been preshaped into a ball and fermented overnight
1 egg, beaten with a fork
3 – 4 medium peaches
juice of 1 lemon
1/2 c. crème fraîche
Method:
On a floured surface, roll the dough into a circle 10 – 11 inches in diameter
Place the dough on a parchment-lined baking sheet. Brush the disc lightly and evenly with egg.
Slip the sheet into a plastic bag or cover with plastic wrap. Proof in a warm place (about 80F) for 1.5 – 2 hours, until the dough feels light and has risen by about 75%. (Because the disc starts out quite thin, 75% risen is still pretty thin.)
Meanwhile, blanch, peel, and halve the peaches. Brush them with lemon juice.
Also meanwhile, center a baking rack in the oven and preheat it to 380F.
Brush the outermost inch of the proofed dough (still on the parchment-lined baking sheet) lightly with egg.
Spread the crème fraîche evenly over the dough, stopping one inch from the edge.
Slice the peaches and arrange them on top of the crème fraîche. (For the tart above, each "petal" is one half peach, sliced straight-up-and-down. They can also be sliced in wedges, as I did for the tart below.) Brush the peaches lightly with lemon juice.
Bake the tart for 15 – 20 minutes, until the crust is a shiny, deep golden brown.
Keeping it on the parchment, transfer the tart to a wire rack to cool.
Serve slightly warm or at room temperature.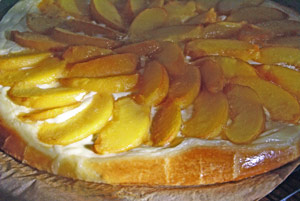 Yield: about 660 g (two tarts or one tart plus six brioches à tête)
Time:
Mix dough: about 15 minutes
First fermentation: 1 hour
Divide and preshape: 5 minutes
First fermentation (continued, in refrigerator): 8 – 12 hours
Shape: varies
Proof: 1.5 – 2 hours
Bake: varies
Ingredients:
270 g flour
27 g cold milk
161 g (about 3 large) cold eggs
5.4 g (scant 1 t.) salt
3.2 g (generous 1 t.) SAF Gold instant yeast
54 g sugar
161 g butter, at room temperature
Method:
Place flour, milk, eggs, salt, and yeast in the bowl of a stand mixer. Mix at low speed for about 4 minutes. It is normal for the dough to be quite stiff at this point.
With the mixer in medium speed, add the sugar very slowly, in 5 or 6 increments. Mix for about a minute following each addition. (If you add the sugar too quickly, mixing will take longer.)
Continue to mix in medium speed until the gluten reaches full development, i.e., you can stretch a paper thin, translucent "windowpane" from the dough.
Turn the mixer back to low speed and add the butter all at once. Mix for a minute in low speed, then turn the mixer to medium speed and mix until the butter is completely incorporated. It may seem like it will never mix in, but it will. You should now have a dough that is very soft and satiny, quite extensible (stretchy) but also strong and elastic (springs back after being stretched)
Transfer the dough to a covered container and ferment at warm room temperature (about 76F) for one hour.
Divide the and preshape the dough into the sizes and shapes you will need for your final product. (For the tart, 330 g. For brioches à tête, 50 g. Both are preshaped into light balls.)
Space the preshaped dough on a baking sheet and slip the sheet into a plastic bag or cover with plastic wrap.
Refrigerate overnight (8 – 12 hours).
The dough is now ready to be shaped, proofed, and baked.