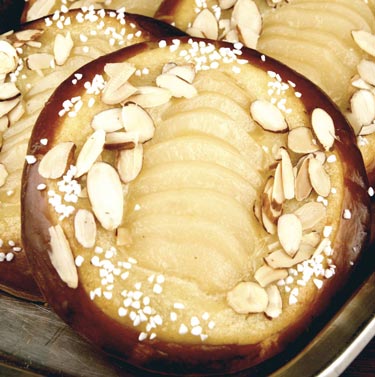 Have I mentioned that I love brioche? OK, so it's rich and sweet and buttery and I don't recommend eating it every day. On the other hand, it is rich and sweet and buttery. And it's easy to make it even better with the addition of things like frangipane, which is… rich and sweet and buttery and almondy. (See? Even better.)
Frangipane is essentially a baked almond pastry cream. In school we learned to make it by combining vanilla pastry cream, a cooked custard that can be used without further baking, with almond cream, which is not pre-cooked and lends a lighter, cake-like texture. There are plenty of other frangipane recipes out there if you don't want to use this two-part process, but the pastry cream and almond cream can also be used on their own, so they're nice recipes to have, and you can vary the proportions of each depending on the texture you want your frangipane to have (more almond cream for a puffier frangipane). Zoe Bakes has a great photo tutorial on making pastry cream.
This brioche is a little different from others I have posted, in that only the sponge, and not the final dough, needs to ferment overnight. This works well if you decide late at night that you must have brioche the next day and don't want to stay up through the dough's long mixing and hour of fermentation before you get to put it to bed in the refrigerator. Just throw the sponge ingredients together, and get back to it after you've both had your beauty rest. If you're a bit better at planning, this pumpkin brioche dough, or this plain one, would also be wonderful for these tarts.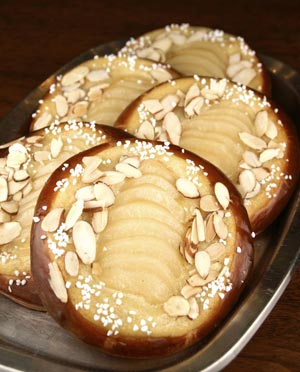 Pear Frangipane Brioche Tarts
Yield: 8 tarts
Time (not including the preparation of brioche dough and frangipane; see below):
Shape: 5 minutes
Proof: 1.5 – 2 hours
Assemble: 15 minutes
Bake: 15 minutes
Ingredients:
400 – 480 g brioche dough (recipe follows) that has been preshaped into eight balls and chilled
about 3 T. seedless raspberry jam
about 400 g frangipane (recipe follows)
8 pear halves, peeled and cored (use canned pears, or ripe fresh ones; if they're firm, poach them first so they're fork-tender)
lemon juice, if using fresh pears
1 egg
about 2 T. strained apricot jam
sliced almonds, lightly toasted
Method:
On a floured surface, roll the dough balls into discs 4 – 5 inches in diameter and about 1/4-inch thick.
To make an egg wash, whisk the egg with a dash of water and a small pinch of salt. Or use an immersion blender, if you have one, for a smoother blend.
Place the dough discs on two parchment-lined baking sheets. Brush the discs lightly and evenly with the egg wash. Save the rest of the egg wash for later.
Slip the sheets into a plastic bag or cover with plastic wrap. Proof in a warm place (about 80F) for 1.5 – 2 hours, until the dough feels light and has risen by about 75%. (Because it starts out quite thin, 75% risen is still pretty thin.)
Meanwhile, slice each pear half crosswise into 1/4-inch thick slices. Keep each sliced half together as a unit. If the pears are fresh, brush them with lemon juice to keep them from turning brown.
Also meanwhile, center two baking racks in the oven and preheat it to 375F on the convection setting, or 400F on the regular bake setting.
Once the dough is proofed, brush it again lightly with egg wash. Use your fingers to press the center of each disc down, leaving about a 1/2-inch rim. If necessary, you can dip your fingers in egg wash to keep the dough from sticking during this process.
Spread about a teaspoon of raspberry jam in a thin layer in the depression of each disc.
Spread frangipane evenly over the jam. Piping it in a spiral, if you have a piping bag, helps facilitate even coverage; use a small offset spatula to even it out further.
Press a pear half into the center of the frangipane, fanning the slices towards the narrower end.
Bake the tarts for 13 – 15 minutes, until the crust is a shiny, deep golden brown. You may need to rotate the baking sheets halfway through to ensure even browning.
Keeping it on the parchment, transfer the tarts to a wire rack.
Combine the apricot jam and about 1 T. of water in a small microwaveable bowl. Microwave to thin the jam to a liquid consistency.
Brush the tarts lightly with the apricot glaze, and garnish with almond slices and pearl sugar.
Serve slightly warm or at room temperature.
Yield: about 950 kg
Time:
Mix and ferment sponge: 8 – 12 hours
Mix dough: about 15 minutes
First fermentation: 1 hour
Chill: at least one hour
Divide and preshape: 10 minutes
Chill: 30 minutes
Shape: varies
Proof: 1.5 – 2 hours
Bake: varies
Sponge Ingredients:
Final Dough Ingredients:
281 g flour
202 g (about 4 large) eggs
7.3 g (1-1/4  t.) salt
4.5 g (1.5 t.) osmotolerant yeast
all of the sponge
20 g milk
62 g sugar
226 g unsalted butter, softened (not melted)
Method:
To make the sponge, mix all the sponge ingredients just until combined. Cover and ferment at room temperature for 8 – 12 hours.
Place flour, eggs, salt, yeast, and fermented sponge in the bowl of a stand mixer. Mix at low speed for about 4 minutes, until the ingredients are incorporated.
Continue mixing in medium speed until the gluten reaches medium development.
Add the milk and mix until it is completely incorporated.
With the mixer in medium speed, add the sugar slowly, in 4 or 5 increments. Mix for about a minute following each addition. (If you add the sugar too quickly, mixing will take longer.)
Continue to mix in medium speed until the gluten reaches full development, i.e., you can stretch a paper thin, translucent "windowpane" from the dough.
Turn the mixer back to low speed and add the butter all at once. Mix for a minute in low speed, then turn the mixer to medium speed and mix until the butter is completely incorporated. It may seem like it will never mix in, but it will. You should now have a dough that is very soft and satiny, quite extensible (stretchy) but also strong and elastic (springs back after being stretched).
Transfer the dough to a covered container and ferment at warm room temperature (about 76F) for one hour.
On a baking sheet lined with floured parchment, press the dough into a rectangle about one inch thick (this helps the dough chill down faster). Cover with plastic and refrigerate for at least an hour, until the dough is firm enough to handle comfortably.
Divide the and preshape the dough into the sizes and shapes you will need for your final product. (For the tarts above, 50 – 60 g each, shaped into balls).
Space the preshaped dough on a baking sheet and slip the sheet into a plastic bag or cover with plastic wrap. Refrigerate at least 30 minutes, until firm.
The dough is now ready to be shaped, proofed, and baked.
Yield: 400 g
Ingredients:
Note: you can vary the ratio of almond cream to pastry cream depending on the texture you want. More almond cream produces a puffier, cakier frangipane, while more pastry cream yields a denser, creamier one.
Method:
In a stand mixer with paddle attachment, combine the almond cream and pastry cream on low speed.
There is no step 2.
Yield: about 400 g
Ingredients:
113 g unsalted butter, at room temperature
113 g sugar
113 g almond meal (almond flour)
35 g flour
51 g (1 large) egg, lightly beaten, at room temperature
3.5 g (3/4 t.) rum
Method:
Combine the flour and the almond meal.
In a stand mixer with paddle attachment, combine the butter and sugar on low speed until fully incorporated.
Add the egg in two additions, mixing on low speed after each one until well combined.
Incorporate the almond meal/flour mixture on low speed.
Add the rum and mix until combined.
Use immediately or refrigerate. Return to room temperature before using.
Yield: about 350 g (after cooking)
Ingredients:
351 g whole milk
1/5 vanilla bean
49 g egg yolk
77 g sugar, divided
22 g conrstarch
Method:
In a medium heat-proof bowl, combine the cornstarch and half of the sugar. Add the egg yolk and whisk gently to combine. (Avoid whisking vigorously as you don't want to incorporate air.)
Scrape the seeds from the vanilla bean and them, along with the scraped pod, to the milk and the rest of the sugar in a medium saucepan.
Heat the mixture over medium heat until it just starts to boil.
Pour one-third to one-half of the hot milk into the sugar/egg mixture, whisking constantly.
Whisk this mixture back into the milk in the pan, and return to medium heat.
Bring the mixture to a boil and cook for another two minutes, whisking constantly.
Pour into a small rimmed baking sheet lined with plastic wrap. Place more plastic wrap directly on the surface and refrigerate immediately. Use when cooled.