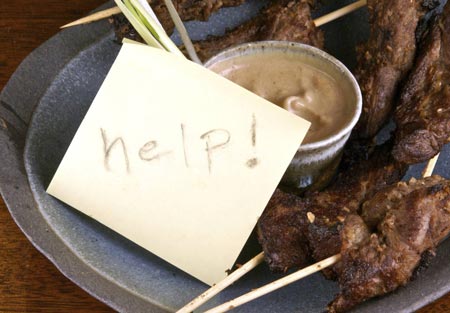 The January 2010 DC challenge was hosted by Cuppy of Cuppylicious and she chose a delicious Thai-inspired recipe for Pork Satay from the book 1000 Recipes by Martha Day. I opted to use goat instead of pork.
These Daring Cooks escapades always involve lots of education. Let's just cut to the chase with what I learned this month:
Bamboo skewers should be soaked for longer than 20 minutes before putting them under the broiler.
A broiled bamboo skewer does not make a bad charcoal stick if there isn't a pencil handy.
My kitchen smoke detector is in good working order.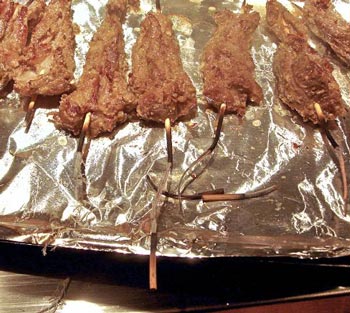 Goats really give their shoulders a workout. I deduce this because the point of this challenge was to marinate a tough cut of meat to tenderize it, and the toughest parts are those that get the most exercise. Goat shoulder is what I had in my freezer, having received it in my last meat CSA box. (Why I belong to a meat CSA when I obviously don't know the first thing about cooking meat remains one of those great unanswered questions.)
Given the workout that goats give their shoulders, longer than 12 hours' marinating time might be advisable.
Yogurt makes a serviceable, if tangy, substitution for coconut milk in peanut dipping sauce.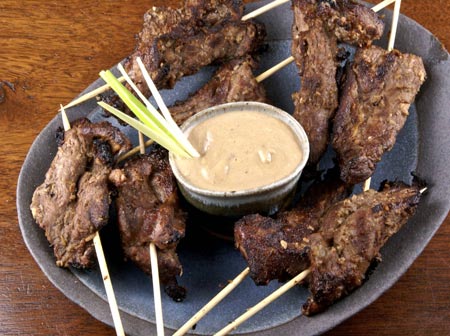 Recipes for the sauce and the marinade, as well as general all-around kitchen competence, can be had courtesy of many Daring Cooks who are not me.