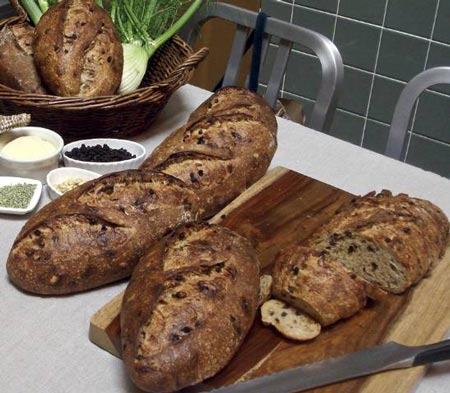 On a Friday night in late January, when most normal baking students might be relaxing and recovering from a hard week of cakes, buttercreams, meringues, and more cakes with a nice dinner, a bottle of wine, and maybe a movie, I had something else in mind. I caramelized eight bulbs of fennel,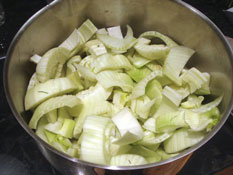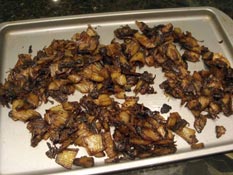 and toasted more pine nuts and fennel seed than I'll use all at once ever again. I fed my starter, building it up to over one kilogram, and called it a night.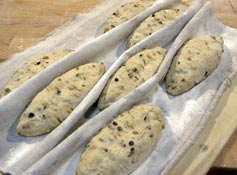 On Saturday morning, I was back at school bright and early, adding my carefully-prepared elements to the mixer along with exactly the right amount of flour, semolina flour, olive oil, water, and dried currants to make 7.1 kilograms of bejeweled and fragrant dough.
Three hours or so later, I shaped the bejeweled, fragrant, and now very lively, fermented dough into fourteen pointy batards, tucked them snugly into their linen beds, and bid them a chilly good night at 46F.
I wondered nervously if these pointy batards could be trusted to settle down to a long, slow proof like they were supposed to. Would I return early Sunday morning to find them plump and energized from a peaceful nap, or would they be spent and deflated after a night of wild yeast partying with the loaves of six of my classmates in that unchaperoned retarder? And would they bake up into the deeply-colored, crusty-outside-soft-inside, savory-sweet loaves that I envisioned, or fall flat under the pressure?
The short answer is that when I pulled these loaves  out of the oven at 7:30 a.m., I was very happy, and satisfied that I was ready for battle in the form of SF Food Wars: Yeast Affliction!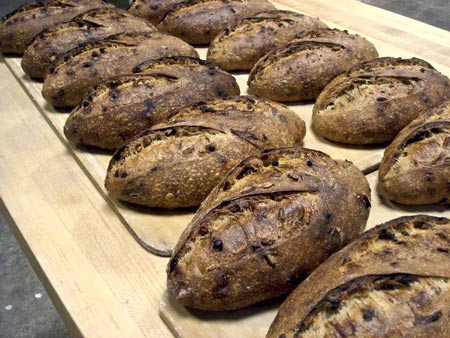 Before gathering my weapons and heading over to the battleground, I had my picture taken by what was apparently a very short person (kidding — thanks, Christian!).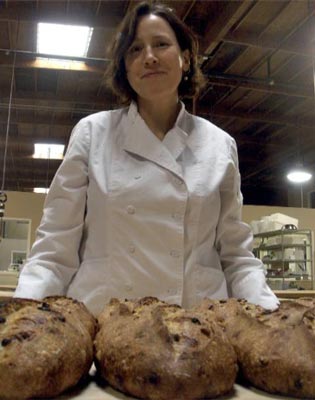 When my friend and accomplice Erika and I arrived at the front (ThirstyBear Restaurant and Brewery in San Francisco), a quick tour of the stations of my nineteen adversaries made it clear that my bread would get a run for its money. Breads of every persuasion were on display and would soon be subject to the judges' critical eyes and palates, as well as those of the 200 attendees, who got to taste everything and vote on their favorites.
These people wanted bread,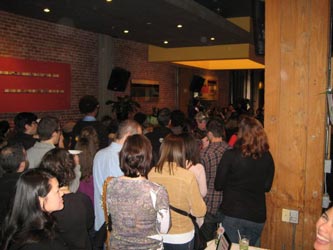 and here are some of the people who had some of the best to offer: my SFBI classmates.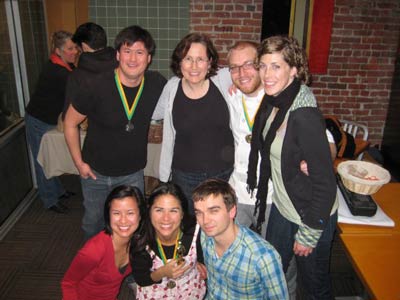 These photos are courtesy of Ms. Linh N., shown here with her amazing Nuthing But Net, a ciabatta-style hazelnut bread: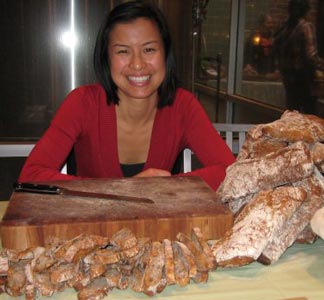 David's Pear Walnut Bread captured the People's Choice Honorable Mention,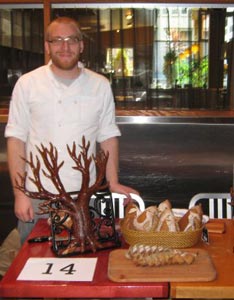 while the judges liked Jen's Rosemary Sourdough,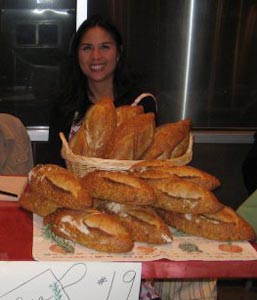 Geoff's Cherry Poppin Walnut,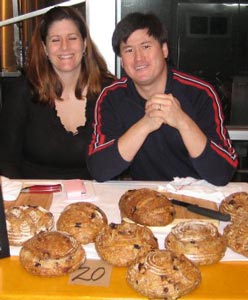 and Jesse's Sour River Loaf (a multigrain sourdough).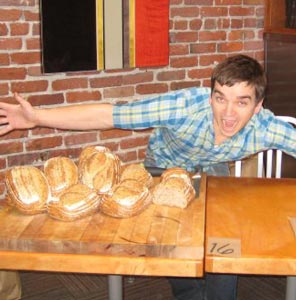 I was particularly partial to Rachael's A Nutty Sourdough, with onions, walnuts, and thyme. Heaven.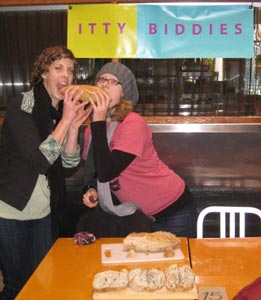 And here's me with my stuff, not winning this time around but still happy with the wonderful comments from the judges and the crowd, people coming back for seconds and thirds, and quite a few questions about where one can buy my bread (you can't, but you can bake it for yourself; the recipe is below).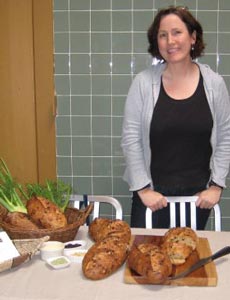 In the heat of battle, I managed to not get photos of the other thirteen competitors, including the People's Choice, The Hurricane, a multigrain seaweed bread by Fire in the Fornix, and the Photographer's Choice, Pain a l'Ancienne by The Fancy Boyz. However, photos and impressions of the event can be found in abundance at Mission Mission, Tablehopper, CHOW, SF Weekly, Local Lemons, and the San Jose Mercury News.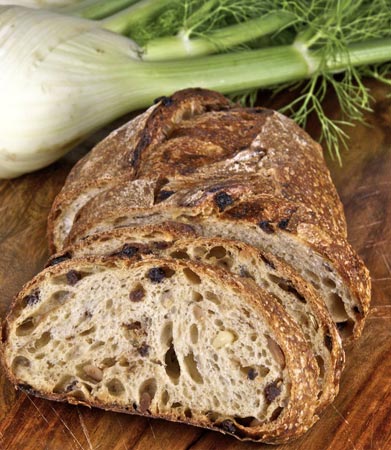 Assuming you don't need fourteen loaves, my bread is quite doable in a home oven. It is very similar to another semolina-fennel-currant-pine nut bread I posted a while ago, but this one has the addition of caramelized fresh fennel, is completely leavened with sourdough, and has a few other tweaks. It takes some time to make, but if you decide to go for it, I hope you enjoy it as much as I enjoyed participating in SF Food Wars with it.
Semolina Sourdough with Fennel, Currants, and Pine Nuts
Yield: 1000 g (2 loaves)
Time:
Caramelize fennel: 2 – 3 hours
Toast fennel seed and pine nuts: 10 minutes
Mix final dough: 10 minutes
First fermentation : 2.5 hours, with folds at 50 and 100 minutes
Divide, rest, and shape: 30 minutes
Proof: about 2.5 hours, or overnight in the refrigerator
Bake: 40 minutes
Desired dough temperature: 75F
Ingredients:
195 g flour
195 g semolina flour
226 g water
10 g (1-2/3 t.) salt
16 g (3-1/2 t.) olive oil
172 g mature 100%-hydration sourdough starter
62 g pine nuts
4 g (2 t.) whole fennel seed
70 g dried currants
50 g caramelized fennel (recipe follows; this is approximately the yield from one medium bulb)
Method:
Prepare the caramelized fennel (see recipe below) and cool thoroughly.
In a small skillet over medium heat, stirring constantly, toast the fennel seed until fragrant. Remove from the skillet and cool.
In a small skillet over medium heat, stirring constantly, toast the pine nuts until golden brown. Remove from the skillet and cool completely.
Just before mixing the dough, soak the currants in cold water to cover for 10 minutes. Drain thoroughly.
In the bowl of a stand mixer fitted with a dough hook, combine the flour, semolina flour, salt, olive oil, sourdough starter, and most of the water. Mix on low speed until the ingredients are well incorporated, about 5 minutes. As you mix, add water as needed to achieve a very soft dough.
Continue mixing on low or medium speed to a medium level of gluten development. How long this will take will depend upon your mixer.
Add the fennel seed, pine nuts, currants, and caramelized fennel. Mix on low speed just until all the ingredients are evenly dispersed through the dough.
Transfer the dough to a lightly oiled container. Cover and ferment at room temperature for 2.5 hours, with folds after the first 50 and 100 minutes.
Turn the dough into a lightly floured counter. Divide into two pieces. Preshape it into balls and let rest, covered, for 20 – 30 minutes.
Shape the dough into batards and place them, seam-side-up, in a floured couche or floured, linen-lined baskets.
Proof at room temperature for 2.5 hours, or until the indentation left by a fingertip springs back very slowly. (Alternatively, the loaves can be proofed for about 30 minutes at room temperature, then placed overnight in the refrigerator.)
Meanwhile, preheat the oven, with baking stone, to 475F. You will also need steam during the initial phase of baking, so prepare for this now.
Just before baking, slash the loaves as you wish.
Once the loaves are in the oven, reduce the temperature to 450F. Bake for 8 minutes with steam, and another 20 minutes or so without steam. The curst should be a rich golden brown. Then turn off the oven and leave the loaves in for another 10 minutes, with the door ajar, to allow the loaves to dry.
Cool completely on a wire rack before cutting.
Caramelized Fennel
Yield: about 50 g
Ingredients:
one medium bulb fresh fennel (approximately 225 g)
1/4 t. salt
1 T. olive oil
Method:
Trim any roots, stems, and fronds from the fennel bulb. Quarter it and cut out the core at the root end. Slice it crosswise into half-inch slices.
In a medium skillet over medium heat, heat the olive oil. Add the fennel and salt and toss to coat with the oil.
Turn the heat to medium-low and cook, stirring frequently, until the fennel starts to brown.
Turn the heat to very low and cook, stirring every 10 minutes or so, until the fennel has caramelized to a very deep brown color and has lost almost all of its moisture. This may take an hour or longer. The fennel's volume will be markedly reduced.
Cool thoroughly before using it in the bread.