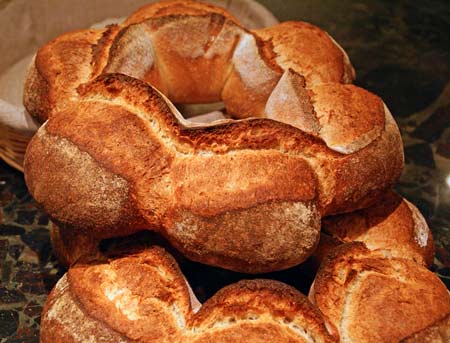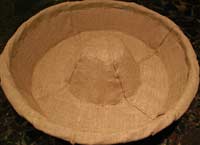 It's time for another BreadBakingDay, and host Eva (Sweet Sins) chose "Shape" as this month's excellent theme. I opted to make a couronne Bordelaise (Bordeaux-style crown), because it was about time I put my oddly-shaped couronne banneton, which I've had for a few months now, to use.
What I wish I had figured out before I spent a small fortune ordering this 12″ linen-lined banneton from France, however, is that you absolutely don't need it. You can rig up a perfectly good stand-in with an inverted cereal bowl inside any flat-ish basket (even a large pie plate would do), and a piece of linen draped over them. I made one couronne in the "real" banneton and one in the mock-up, and I truly couldn't tell the difference in the final loaves. The diameter of my basket is about 11″, and of the bowl, about 4.5″.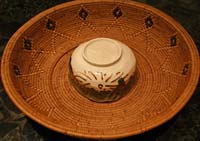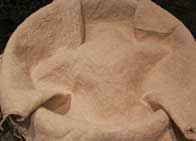 Although I believe this shape is traditionally done with pain de campagne, any medium-hydration lean dough should work. I used my favorite Norwich sourdough.
For one couronne of 11-12″ diameter, you need 750 grams of dough. Divide the dough into six pieces of 100 grams each, and one piece of 150 grams. Shape the pieces lightly into balls and let them rest, covered, for about 20 minutes. Flour the linen lining your basket.
Roll the 150-gram ball into a flat disk about 10″ in diameter. Drape it evenly over the center hump in your basket. It should reach about halfway to the basket's outside wall.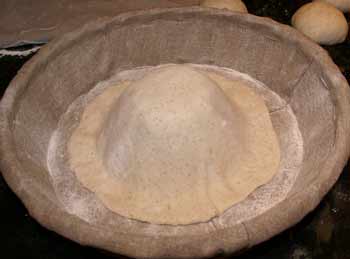 Shape the remaining six pieces into tight balls and place them seam side up in the basket, evenly spaced. They will not touch each other at this point.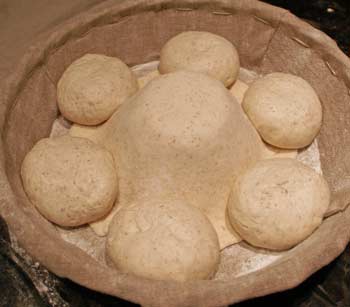 With a razor blade or sharp knife, cut the center of the disc so that it has six points centered over the six balls, like this: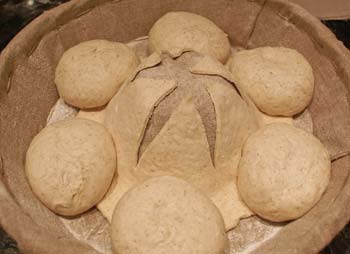 Fold each point back over its corresponding dough ball.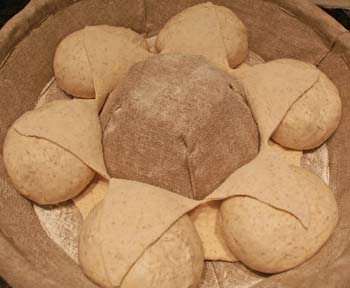 Proof the loaf as your recipe directs. By the end of the proof, the dough should be expanded sufficiently so that the balls are touching and you have a cohesive loaf. When it's time to bake, invert the loaf onto the peel. The "collar" will look like it has glued itself to the balls (and it has), but it should pop up during baking. No slashing required!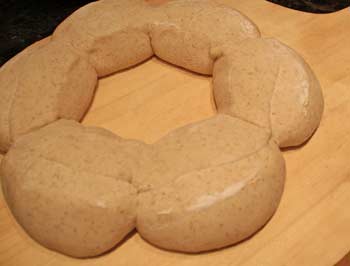 Bake as directed by your recipe. You may need to bake slightly less time than you would bake a boule or batard of equal weight, since the couronne has a greater surface area.
Et voilà!