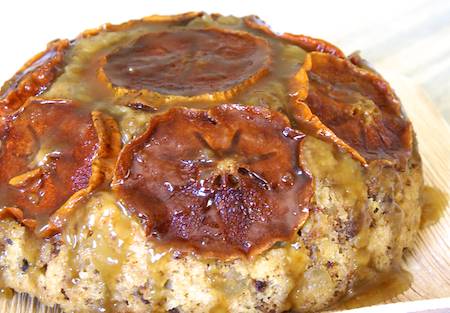 The April 2010 Daring Bakers' challenge was hosted by Esther of The Lilac Kitchen. She challenged everyone to make a traditional British pudding using, if possible, a very traditional British ingredient: suet.
I remember suet as the thing my grandmother would press with birdseed and hang outside her window to attract cardinals and goldfinches. In my recollection it was not, even though my family is from good English stock, something that was for people. If my grandmother cooked with it, she kept it to herself, which was a good idea, since I would have run screaming from anyone suggesting I eat the fat that blankets cows' kidneys.
To be honest, the thought of it doesn't do much for me now, either. But that's the point of Daring Bakerhood, isn't it — jumping out of one's comfort zone and into the rendering pan? And I have to say that I was very pleasantly surprised with how this pudding turned out, fat and all. It was like a very moist cake or bread pudding (actually, it is a bread pudding), without the meaty flavor I was expecting.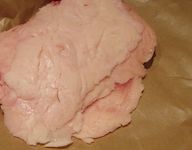 I didn't use true suet, as none was available at the meat counter when I showed up. However, they gave me some freshly-trimmed beef fat, and if you won't tell anyone that this particular fat had an affinity for muscles and not kidneys, then I won't either. I'm not sure how the difference affected the final result, and I would try real suet in the future if it's available (and pre-rendered would be even better, because the rendering — melting and straining the fat to remove the connective membranes — was a pain), but it worked.
The persimmon-ness of my pudding was inspired by some beautiful dried persimmon slices I couldn't resist when I spotted them in the market. It turns out the steaming worked perfectly to hydrate and tenderize the leathery rounds to a cuttable and comfortably chewy consistency.
I also chopped some persimmon (about 35 g) and added it to the batter, along with 50 g of coarsely-chopped candied ginger. For the bread crumbs, I put a few slices of staled Norwich Sourdough, crust and all, in the food processor and processed until it was a mixture of crumbs, from pea-sized to very fine. (See our host's blog for the original challenge recipe; scroll down to "steamed suet pudding, sponge type.")
After generously buttering my mold (a small stainless steel mixing bowl), I coated it with brown sugar, dotted the bottom with about a teaspoon of butter (this was not enough), and lined it with persimmon slices.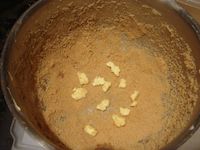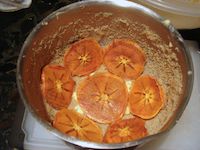 I spooned batter over that, covered the whole thing with waxed paper, and set it on an inverted vegetable steaming basket inside a covered pot of simmering water for two hours and ten minutes.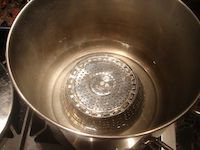 Upon unmolding, I saw that the bulk of the brown sugar, which I was hoping would form a glaze, was instead stuck to the mold. But a couple of tablespoons of melted butter whisked into the recalcitrant sugar yielded a drizzle-able sauce; a splash of rum would be a nice addition for next time.
Daring Bakers' suet (and suet analogs) puddings abound today — crusted and spongy, sweet and savory, steamed and boiled, spotted and treacled and fair. Tuck in!