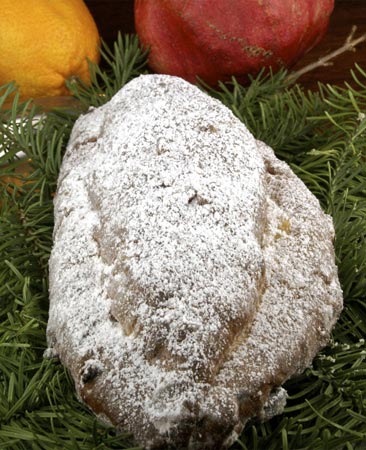 Today's post was supposed to be about this year's panettone, but we're not going to talk about that right now. If you must have panettone, fine, go, get out! And don't bother coming back!
Stollen is much easier than panettone. None of this fussy sweet Italian levain business, none of this persnickety adding of the sugar in stages so you don't overhwhelm your poor fragile gluten, none of this namby-pamby hanging upside down after baking so the sissy little bread doesn't collapse under its own weight.
No, with stollen you just throw everything into the mixer and mix the hell out of it. The hardest part is shaping the loaf so it looks like the baby Jesus wrapped in swaddling clothes and lying in the manger. (I think I did a pretty good job with that. I mean, I really see the resemblance there, don't you?) And you won't catch our little Lord collapsing under his own weight any time soon, now, will you?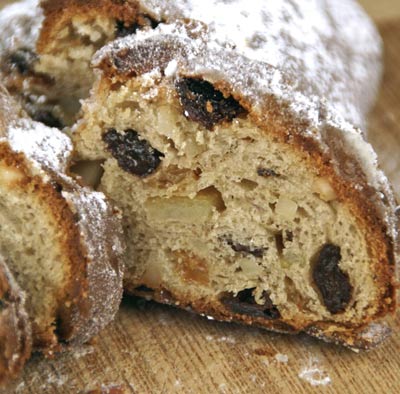 Stollen does have lots of butter and a fair amount of sugar, and if you've been paying attention you'll recall that these things are not kind to gluten, so in many breads they're withheld from the mixing until the gluten is well on its way to development. With stollen, though, they need to be in from the start or the dough would be too dry to mix at all. The tradeoff is that the dough has to be mixed for a good long time before the gluten does develop. I wouldn't go so far as to turn on the mixer and go take a bath, but maybe you could squeeze in a shower.
At first you will not believe me. You will think that there is no way you are ever going to get a windowpane from this cookie-dough mess. Have faith, keep mixing, and you'll be rewarded with your own Christmas miracle.
Stollen
(Adapted from SFBI)
Yield: 1475 g (1 small and 3 larger loaves)
Time:
Ferment sponge and soak soaker: 12 hours
Mix final dough: 20 – 30 minutes
First fermentation : 30 minutes
Preshape, rest, and shape: 30 minutes
Proof: 90 minutes
Bake: 30 minutes
Soaker Ingredients:
(Note: It's easy to make your own candied citrus peel. Here's one recipe.)
204 g raisins
61 g candied orange peel
92 g candied lemon peel
82 g slivered almonds
34 g rum
Sponge Ingredients:
Final Dough Ingredients:
348 g flour
53 g milk
18.6 g (2 T.) osmotolerant yeast
8 g (1-1/3 t.) salt
8 g (2-1/3 t.) diastatic malt powder (omit if you don't have it)
51 g sugar
53 g egg (about one large egg)
5 g grated lemon zest (one average lemon)
5 g grated orange zest (one small orange)
1/3 t. of each of these ground spices: cinnamon, cardamom, cloves, allspice, nutmeg
273 g unsalted butter, at room temperature (should be pliable)
all of the sponge
all of the soaker
Finishing Ingredients:
clarified butter
fine granulated sugar
powdered (confectioner's) sugar
Method:
Combine the soaker ingredients in a medium bowl. Cover and refrigerate for about 12 hours.
Meanwhile, combine the sponge ingredients in another medium bowl. Cover and ferment at room temperature for 12 hours.
In the bowl of a stand mixer, combine all of the final dough ingredients except the soaker. Mix in slow speed until all the ingredients are incorporated, about 4 or 5 minutes.
Continue mixing in medium speed until the gluten reaches full development. The dough should come together around the hook and should no longer stick to the sides and bottom of the bowl. This could take about 20 minutes or more, but will depend on your mixer.
Add the soaked fruits and mix on slow speed just until they are evenly distributed through the dough.
Transfer the dough to a lightly buttered container. Cover and ferment for 30 minutes at room temperature.
Turn the dough onto the counter. Divide into 400 – 450 g pieces (I made three loaves at 400 g and one smaller one at 275 g). Preshape the dough into balls and let them rest, covered, for 30 minutes.
To shape each loaf: Form a blunt-ended batard and dust it lightly with flour. With a thin rolling pin, press down firmly, separating about 1/3 of the dough from the other 2/3. Roll out the flap of dough connecting the sections so it is about 2 inches wide. Flatten the larger section slightly with your hand, then fold the smaller section over to rest on the larger one.




Place the loaves on parchment-lined baking sheets (two per sheet) and slip them into a large plastic bag with a bowl of warm water. Proof for about 90 minutes, replenishing the water when it cools.
Meanwhile, preheat the oven to 375 on convection setting or 400 on regular bake setting. You will also need steam during the initial phase of baking, so prepare for this now.
Bake for 10 minutes, open the oven door briefly to allow any remaining steam to escape, and bake for another 20 minutes. If you do not have convection, you may need to rotate the position of the baking sheets halfway through the bake to ensure even browning.
While the loaves are still warm, brush them with clarified butter. Dredge them in fine granulated sugar (left), brushing off the excess (right).

To finish, sift powdered sugar over the loaves.
Cut when completely cool. To store, wrap tightly in foil; it will keep for several days.