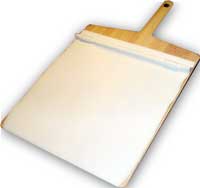 Last week I mentioned the Super Peel in my Gift Ideas post, and I'd like to tell you a bit more about it, as it's one of my favorite tools.
If you bake bread or pizza you know that a peel is used to transfer a loaf or pizza onto a hot baking stone. A traditional wood or metal peel must usually be quite heavily dusted with flour or cornmeal to allow the dough to slide off the peel and onto the stone without sticking — and sometimes it still sticks, especially if the dough is quite wet. Parchment paper can help, but it's expensive, disposable, and burns at high oven temperatures.
The Super Peel is a clever answer to those problems. Modeled after the cloth conveyor belts that professional bakeries use to get loaves in and out of large deck ovens, the Super Peel has its own pastry-cloth belt that gently and efficiently picks up a pizza, loaf, or any other delicate or sticky item from a flat surface and deposits it, unscathed, anywhere you like.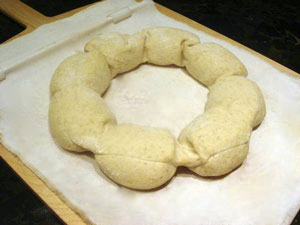 I most recently used my Super Peel to transfer this couronne onto the baking stone without fear of it sticking and deforming its lovely circular shape. I've used it to transfer a ganache-covered cake from wire rack to serving plate. It's great for getting a rolled-out pie crust (even one that wants to stick to the counter) into the pie plate, or cut cookies onto the baking sheet without mangling them.
Check out videos of Super Peel in action at the Super Peel website.
Now here's the best part: one of my favorite tools can be one of your favorites too — for free. Gary Casper, Super Peel's inventor and manufacturer, has agreed to send a Super Peel to one of you lucky people. Just leave a comment on this post, and I'll choose a winner at random on December 13. (Please note this giveaway can be shipped to the 50 US states or Canada only.) So happy commenting, happy baking, happy transporting, and good luck!
— UPDATE: Entries are now closed for this giveaway. Thanks to everyone who left a comment! —