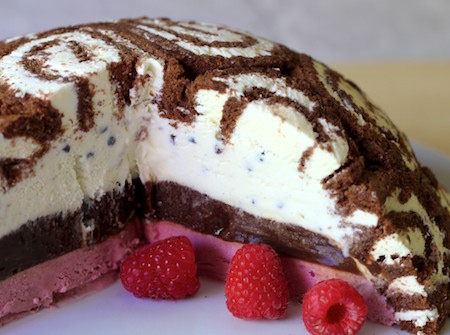 The July 2010 Daring Bakers' challenge was hosted by Sunita of Sunita's world – life and food. Sunita challenged everyone to make an ice-cream filled Swiss roll that's then used to make a bombe with hot fudge. Her recipe is based on an ice cream cake recipe from Taste of Home.
Well now, this is a little embarrassing. Looking over my last few Daring Bakers challenges, I see that I have chosen to do a raspberry/chocolate combination for the latest three, and four of the last six. And I wonder why my friends find it so easy to predict what dessert I'm going to order in restaurants.
Not that I'm regretting a minute of it. Chocolate and rasberries go together like, well, ice cream and cake.
And although I have never been big a fan of Swiss rolls (I'm quite certain there is an early-childhood run-in with Little Debbie lurking in my long-repressed recesses), and although my cake looks on the outside like it's had a run-in with something or other, this bombe was the bomb.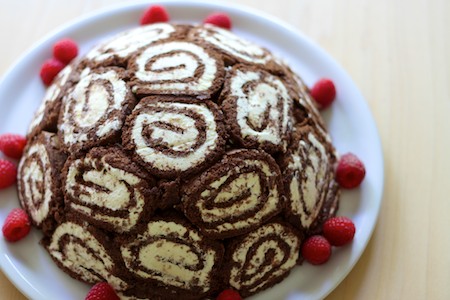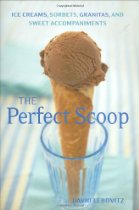 I followed Sunita's recipes for the Swiss rolls that form the bombe's outer layer, and for the fudge sauce that ended up sandwiched between the two home-made ice creams inside. My ice creams, churned with my KitchenAid mixer's ice cream attachment, were both adapted from David Lebovitz's wonderful book, The Perfect Scoop. I added cocoa nibs (crushed unsweetened cocoa beans) to the vanilla, and I made the raspberry with Perfect Purée supplemented with a little puree of frozen mixed berries.
Of course it wouldn't be a DB challenge if I didn't wind up up with a list of  "do-next-times" so here it is:
Notice how my Swiss roll slices are rather crumby? This happened upon slicing, and freezing thoroughly before slicing would help.
I think I'd like a fudge sauce based on cream rather than water; this became a bit icy when frozen.
Reversing the ice cream layers (raspberry on top, vanilla on the bottom) would give a better contrast between the ice cream and the Swiss roll layer.
Whole raspberries should go in there somewhere.
I believe some of the other Daring Bakers offer suggestions for flavor combinations that are not chocolate and raspberry. I might have to grudgingly admit that they might be good too.