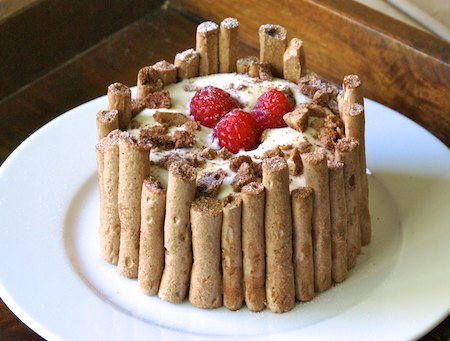 The June 2010 Daring Bakers' challenge was hosted by Dawn of Doable and Delicious. Dawn challenged the Daring Bakers to make Chocolate Pavlovas and Chocolate Mascarpone Mousse. The challenge recipe is based on a recipe from the book Chocolate Epiphany by Francois Payard.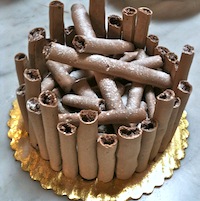 When I was in school, we made a Concorde cake: layers of chocolate meringue and chocolate mousse, encased by and topped with chocolate meringue "logs." My classmates and I agreed it was delicious, but we were hard-pressed to understand how the 8-inch cake could be gracefully cut into individual servings. The idea of single-serving-sized desserts came up.
This month's Daring Bakers challenge — individual chocolate Pavlovas (meringue shells) topped with chocolate mascarpone mousse and drizzled with mascarpone cream — seemed like a good candiate for a Concorde-style interpretation.
All of the challenge components — meringue, mousse, cream — are here, with just a couple of tweaks to the original recipes. In the mousse, I replaced the Grand Marnier with 4 tablespoons of Chambord. And to give the mascarpone cream more body, so it could be used as a top layer rather than a drizzling sauce, I cut back the crème anglaise in the recipe to one cup, and whipped the finished cream to soft peaks.