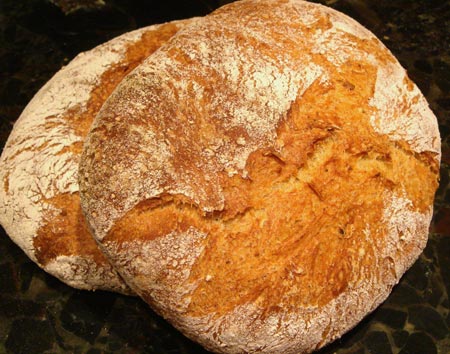 Cast of characters:
Act I, Scene 1
Hey, this month's Daring Bakers challenge is bread, woohoo! Tanna has chosen Tender Potato Bread from Home Baking by Jeffrey Alford and Naomi Duguid. And she's authorized us to make the recipe our own by seasoning and/or shaping it as we please. I've always wanted to make a fougasse. Now's the perfect time! Let's get started.
Hold on! Look, you're used to working with ingredients by weight, and these measurements are given by volume. And, you're used to using water to adjust the dough consistency, and the directions here say to do it with flour. You know you're morally obligated as a Daring Baker to follow the directions, except where the host explicitly says you can use your creativity. Plus, you've never made bread with potatoes before, sweet potatoes don't count. You don't know how this dough will behave. Maybe the first time through you should just follow the original recipe and bake it in loaf pans, or as focaccia. Wasn't it you who said you don't tweak a recipe the first time you make it?
I changed my mind. I want to be creative! I want to be daring! How hard can it be? Bring it on!