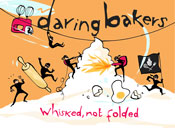 When I joined the Daring Bakers, this was exactly what I was afraid of, and exactly what I was hoping for.
I'll come right out and admit it, I'm afraid of cake, my number one baking nemesis! Although the name of this month's challenge is Bostini Cream Pie, it's cake alright, individual orange chiffon cakes no less, atop creamy vanilla custard and drizzled with smooth chocolate glaze. I'm quite sure Mary (Alpineberry) didn't mean to freak me out on my very first challenge, but goodness, did it have to be cake? With me and cake, it's always something: it sticks to the pan, it falls, it cracks, it's too wet, it's too dry. It's always something with cake.
But as much as I was dreading cake, I was also hoping to learn some things and have fun exploring new baking territory. And this challenge did not disappoint in those departments. Who better than a cadre of Daring Bakers to help me face my cake phobia and come out with something that was lovely and delicious? (See the recipe here.)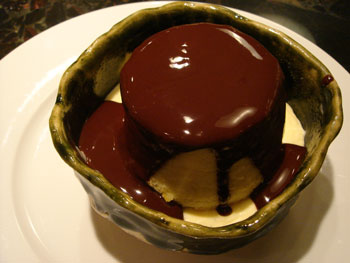 Seven things I learned making Bostini Cream Pie (including making the chiffon cakes twice):
Chiffon cake is a foam cake made with oil (no butter).
A distinct rubbery bottom layer on your chiffon cake probably means you didn't beat the egg whites enough, or folded them into the batter incompletely.
The folding is much easier if you "lighten" the batter by stirring in a bit of the beaten egg whites before folding in the rest of the whites.
Folding is best done with a flat spatula and consists of cutting straight down through the whites before folding the batter over on top of them. Here's a nice video demonstration.
Making custard is a piece of cake snap, and using a whole vanilla bean gives it beautiful flecks.

Using a high proportion of heavy cream produces a custard that's a little too rich for me. Next time I'll use more milk, less cream.
The Daring Bakers are a very warm and very knowledgeable bunch!