Meet my new favorite snack…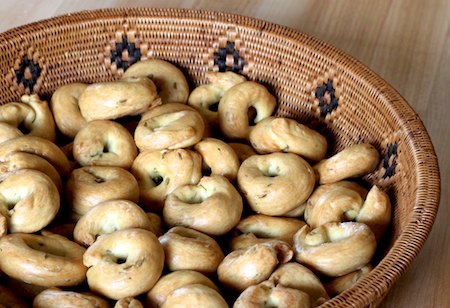 … my new favorite gift food…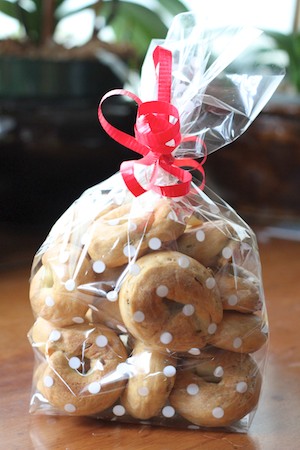 … and my new favorite Christmas tree ornament…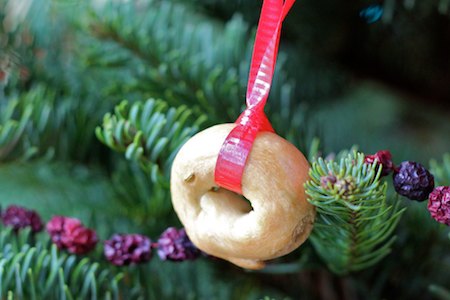 … all rolled (literally) into one crunchy little Italian wheel called a tarallo.
These taralli, which are a cross between a bagel and a hard bread stick and which Ilva assigned as the Bread Baking Babes' December project, are better than the taralli I have made before. I attribute this to the greatly-increased proportion of olive oil, which gives a tender, crumbly interior texture while keeping the outside firm and crunchy. Oh, and there's a lot more fennel, too, so you're pretty much guaranteed a superior result right there. And then there's the wine…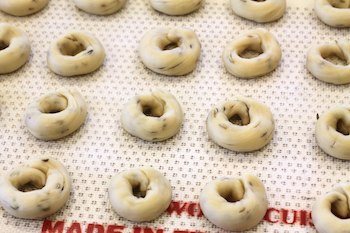 You can see Ilva for the recipe; here are a few of my comments:
I made 3/4 of the batch (using 750 grams of flour), and this still seemed like a lot of dough.
The recipe says the fennel is optional. Not.
I opted for the wine instead of egg, replacing 1.5 eggs with 75 grams of wine.
I added about a cup (237 grams, give or take) of water in all.
To portion the dough uniformly, I rolled thumb-thickness ropes about 24 inches long and used a dough cutter to cut them into lengths about 2 inches long, then rolled each piece to baby-finger thickness. In case you aren't used to thinking in units of body appendages, this is about 1 centimeter or 3/8 inch in diameter.
The dough is oily and I was worried that the joined ends weren't going to stay together through the boiling and baking, but they did.
I loved the charming way they had of sinking to the bottom of the boiling pot, only to pop up to the top with élan a minute or two later. They reminded me of my daughter's little dog, who has springs for legs.
I needed to bake my taralli for 40 – 45 minutes in order to get them brown.
You will want to make these! And when you do, send them to Ilva before December 29 to gain Bread Baking Buddy status.