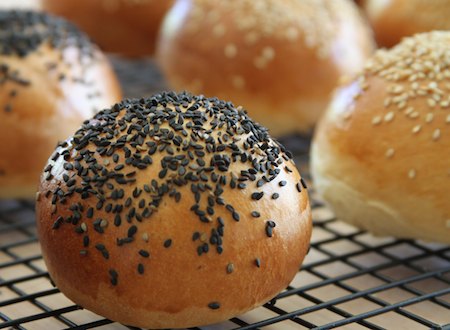 This month the Babes were treated to the perfect summer bread: soft, buttery burger buns, chosen by Sara.
Because timing is not my strong suit, my buns did not get the chance to hold the burgers they were intended to. They did make lovely almond butter sandwiches, though. And I'm thinking the sleek and slightly sweet dough could also make fantastic cinnamon rolls…
The recipe was quick and easy. I made a few tweaks and a few notes:
I measured the flour according to the weight given in the recipe (625 grams), but I wonder if this was too much, since the equivalent volume was given as 4 cups. This would make a cup equal to 156 grams — on the high side for sure.
I substituted 10.4 grams (about 3 1/3 teaspoons) instant yeast for the 4.5 teaspoons of active dry yeast in the recipe.
I measured a tablespoon of Kosher salt, the amount the recipe called for, and found that it weighed 15 grams. I cut that back to 12.5 grams to make the salt 2% of the flour weight, which I usually find to be about right.
Instead of rolling out the dough and cutting it into squares, I divided it into 12 pieces of 100 grams each and rolled them into balls that I flattened slightly with the palm of my hand.
I proofed for 30 minutes as directed by the recipe, but this was too short for the temperature of my kitchen (yes, it can be cool on July mornings in Northern California). The crumb, while soft, was a little dense. This could also be because I had too much flour.
I baked both sheets of buns at once, using my oven's convection setting at 375F for 16 minutes.
You need to check out the other beautiful Babes' buns — you'll find links to slider buns, barbecued buns, square buns, rounds buns, sunflower seed buns, buns, buns… on my lower right sidebar!