So. The Bread Baking Babes, those gorgeous, cheeky, and oh-so-fearless oven addicts, are three years old this month. We are celebrating three years of loaves, and more than a few laughs, by taking a look back at all the breads that have delighted, challenged, exasperated, terrified, and excited us.
The breads of 2008: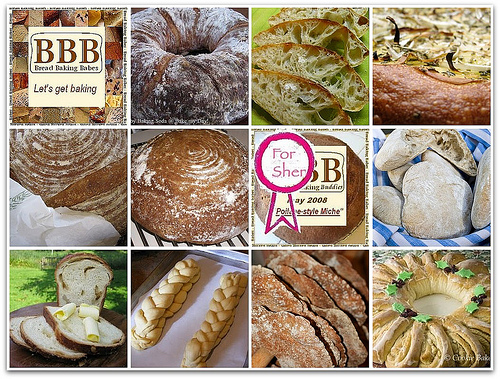 (read left-to-right, top-to-bottom)
February: Karen Royal Crown Tortano (in Dutch) and in English
March: Lien Coccodrillo
April: Tanna Sullivan Street Pizza
May: Sher  – Poilane-Style Miche
June: Mary Breadchick's Dark Onion Rye
July: – in memory of Sher who passed away July 20 2008; this month we made something from her blog, something that reminded us of the warm and witty personality Sher was. The news of her passing shocked us. She is our Angel Babe.
August: Ilva Whole Wheat Pita
September : Monique Sûkerbôlle
October : Sara Challah
November: Görel The Rosendal Crisp Bread
December: Lynn Yule Wreath
The loaves of 2009: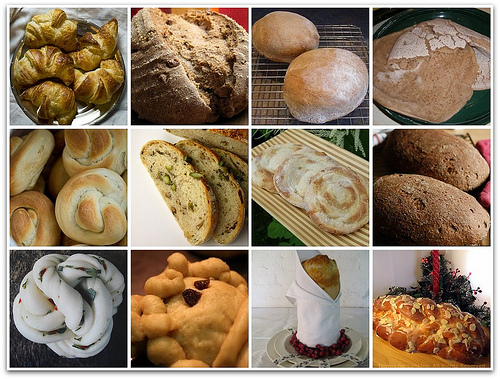 January Katie Croissants
February Tanna Pane ai Cinque Cereali con Nod (Five-Grain Bread with Walnuts)
March Sara Pane Francese
April Mary Ethiopian Injera
May Ilva Pane di Pasta Tenera Condita (Italian Knot Bread)
June Lien Asparagus Bread (in English and Dutch)
July Natashya Sukkar bi Tahin (Beirut Tahini Swirls)
August Görel Russian Black Bread
September Karen Chinese Flower Steam Buns
October Gretchen Tanta Wawa (Peruvian Bread Babies)
November Monique Brioche Mousseline
December Katie Viennese Striesel

And our third year, 2010: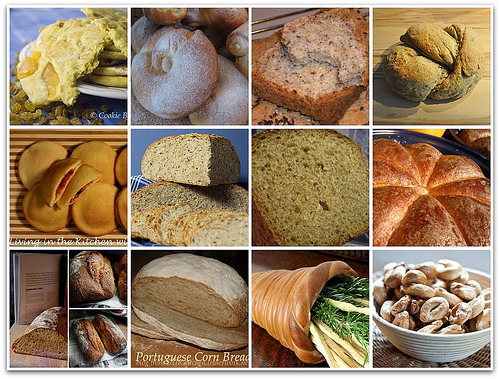 January Lynn Curried Naan
February Karen Ensaimada
March Mary Gluten Free No Knead Hearty Seeded Sandwich Bread
April Sara Potato Bread with Chives
May Natashya Tunisian Spicy Breads
June Lien Korni (in English and Dutch)
July Lynn Yeasted Sprouted Wheat Bread
August Tanna Sweet Portuguese Bread
September Görel Brunkans Långa
October Elizabeth Broa: Portuguese Corn Bread
November Susan Cornucopia
December Ilva Taralli Pugliesi
Now isn't that an amazing array of breads?
So what are we going to DO for our Anniversary? Stay tuned and check back on February 16!