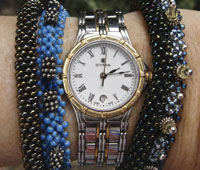 When I was in graduate school, we had a talk on cultural differences by an anthropologist who told a story about one of her students.
The student was in the South American rainforest, waiting for a ferry that would take her down the river. The attendant at the ferry landing told her the boat would arrive at 2:00. She waited, and looked at her watch. 2:00 came and went. 2:30 came and went. 3:00 came and went.
She remarked to the attendant that the ferry was late. The attendant said, "No, it's not 2:00 yet."
The student pointed to her watch and said, "Yes, it is well past 2:00."
The attendant replied, "No, the boat has not come yet. Therefore it is not 2:00."
So it is with bread.
When the recipe says mix for 10 minutes, check the gluten. If it's not developed, the 10 minutes have not passed.
If the loaves need to proof for two hours, check them at 60 minutes. If they're ready, then two hours have gone by.
When your calculation says the bread should finish baking at 2:00, look at it. If it is still pale, it's not 2:00 yet.