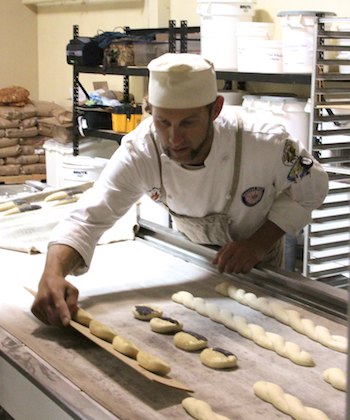 Mike Zakowski loads breads and rolls into the oven.
Last month, when many people had World Cup Soccer on their minds, I was privileged to meet a small group of hugely talented bakers who came together at the San Francisco Baking Institute to prepare for a very different world cup: the Coupe du Monde de la Boulangerie. In the 2012 "World Cup of Bread Baking," which is said to be the Olympics of the baking world, teams from twelve countries will compete for Gold, Silver, and Bronze medals as they promote international awareness of baking as a highly skilled craft.
Craig Ponsford, Chariman of the Bread Bakers Guild of America, sponsor of the USA team, graciously spent some time discussing the history and structure of this prestigious competition.
The Coupe du Monde was founded in 1992 by Christian Vabret of the Ecole Française de Boulangerie d'Aurillac to honor the art and craft of artisan baking, promote baking education and technical skill, and foster international goodwill and appreciation of traditional regional artisan breads and techniques. It is held in Paris every three to four years in conjunction with the trade show Europain. The previous Coupe du Monde's top three teams are invited back to participate in the next event. Other countries must compete for the remaining nine slots through four regional qualifying competitions, the Louis LeSaffre Cups.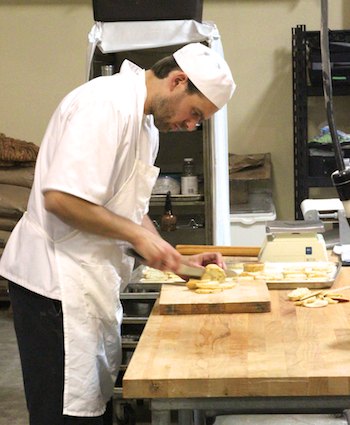 Jeremey Gadouas works on Viennoiserie.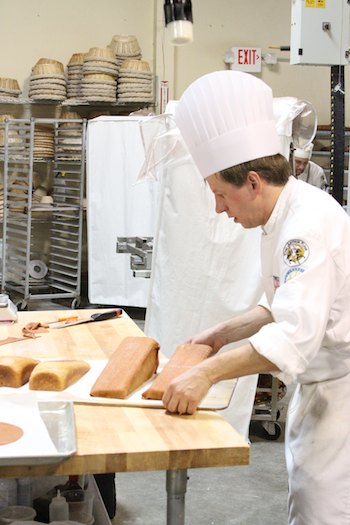 Harry Peemoeller with some supporting elements of his bread sculpture. In the Artistic Design category, everything, even the glue, must be edible.
Because the US team placed fourth in 2008, the US will need to secure an invitation to the 2012 Coupe du Monde by competing against eight other teams from North and South America for one of the two slots ups for grabs at the LeSaffre Cup in Las Vegas next month. Here, three bakers selected from the nine-member USA team will show what they can do in the areas of Baguettes and Specialty Breads, Viennoiserie (yeasted pastries), and Artistic Design, and hopefully go on to represent the USA at the Coupe du Monde. The Las Vegas LeSaffre Cup will be held at the International Baking Industry Exposition (IBIE) on September 26 – 29 and is open to the public (as are Europain and the Coupe du Monde), if you're interested in going and cheering and them on.
The selection of the members of the US team began in 2009, with members "drafted" from a series of six master audition classes around the US. (These classes are open to anyone, so if you think you might like to throw your hat into the ring for 2016, join the BBGA to keep informed of the process.) Five of the nine convened at SFBI over a weekend in July to work on their respective products, receive feedback from the team coaches, and make a case to be selected as one of the three to compete in Las Vegas.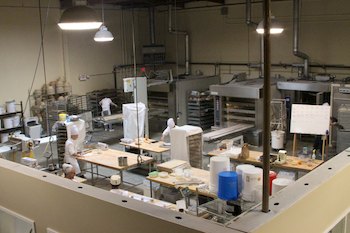 The SFBI bread lab is a practice arena.
They worked that weekend under the same rules that will apply in competition. Each baker competes in only one of the three categories (although in competition they will all help each other out). They have a limited amount of time to produce a set number of pieces of various products conforming to some strict specifications, but also allowing for a high degree of individual creativity. The judging criteria include not only taste and appearance, but things like uniformity, adherence to weight/volume specifications, and cleanliness.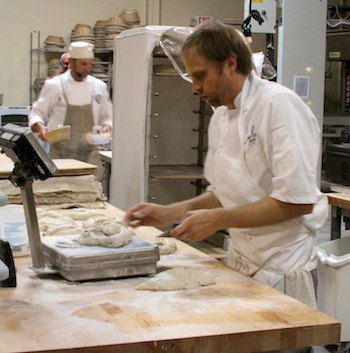 Roger Gural scales dough. Speed and accuracy are important.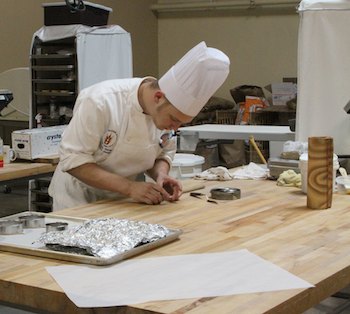 Steven Sands, intently focused on one of the fine details of his sculpture.
The focus, speed, and sheer talent of these guys was astonishing. I was asked not to photograph the finished breads, pastries, and sculptures, but I can tell you that every single thing I saw come out of the oven was jaw-dropping. I don't know yet who was selected as the final three, but no matter; I can't believe Team USA can lose with such skilled people. I'm not sure if I'll make it to Las Vegas (and Paris would be wonderful too), but I'll be rooting for them!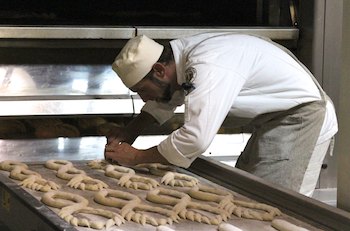 Mike Zakowski getting intricate with scissors.