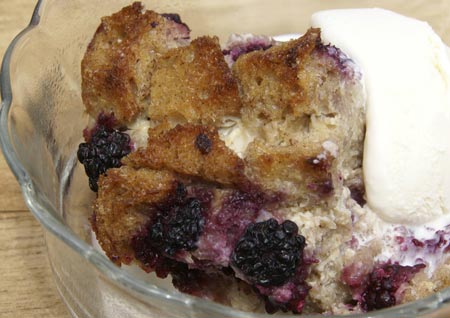 After a day of trying to lay my oven hearth, and ending up with very little to show for it, I went to forage a few early blackberries. They wound up in this bread pudding, along with the last of my (now 3-day-old) sourdough. Now I am fortified for another day of oven-wrangling.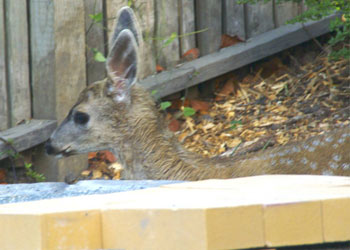 Blackberry Bread Pudding
Servings: 4 – 6
Ingredients:
About 6 ounces de-crusted stale sourdough bread, cut into 1/2-inch cubes (3 lightly-packed cups of cubes)
1 c. fresh blackberries
3 eggs
2 1/4 c. whole milk (I substituted 1 3/4 c. nonfat milk plus 1/2 c. half and half)
2 T. packed brown sugar
7 T. granulated sugar
1 t. ground cinnamon
1/4 t. ground coriander seed
scant 1/2 t. salt
Method:
Lightly butter a 1.5-quart baking dish.
Place half the bread cubes in the baking dish, followed by half the blackberries. Top with the remaining bread, then the remaining blackberries.

Whisk together the eggs, milk, sugars, cinnamon, coriander, and salt. Pour the mixture over the bread and berries.
Let stand for 30 – 40 minutes, pressing the bread cubes with a spoon to submerge them in the custard every few minutes.
Meanwhile, preheat the oven to 350F.
Bake in a water bath for about 1 hour and 15 minutes, until the center of the pudding is puffed and firm.
Serve warm with ice cream.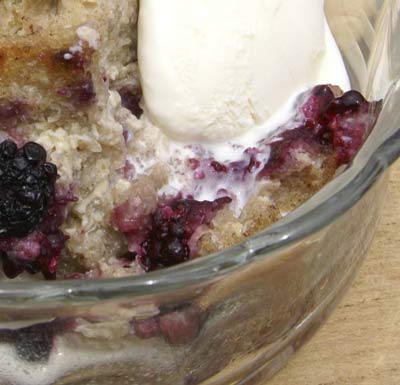 This is going to YeastSpotting this week. If you'd like to participate, get the details here.