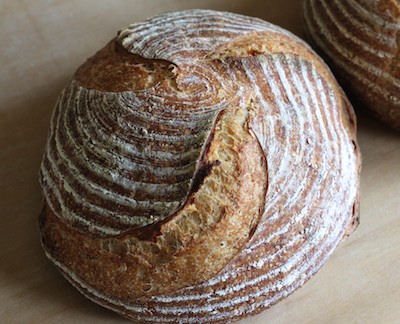 Using old bread to make new bread is certainly nothing new. The practice of adding an "old bread soaker" to dough has been used in Europe, especially Germany, for hundreds of years. In Bread: A Baker's Book of Techniques and Recipes, Jeffrey Hamelman writes, "The practice of soaking old bread and then adding it into a new batch not only makes economic sense, it also gives a rich depth of flavor to the new breads. Far from being expended, the old bread contains much that is still fermentable…"
This sourdough bread uses old bread in a slightly different way. Instead of soaking it, I wanted to find out what would happen if I turned some week-old Norwich Sourdough (crust and all) into fine bread crumbs and simply let the crumbs stand in for a portion of the flour in a new batch of dough.
I have to say I'm pretty pleased with the result. Not only is the flavor rich and toasty, and the crumb pleasantly speckled with brown flecks, but this must be one of the longest shelf-lives I've ever seen with any of my loaves. I've gone through about 2/3 of a one-kilogram loaf in a week, and I am still able to cut, chew, and enjoy it.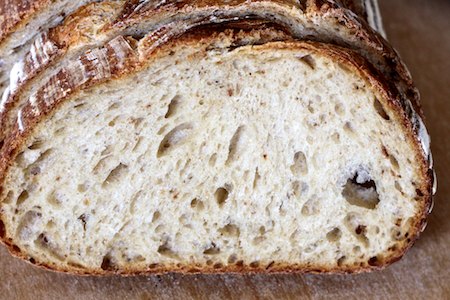 The recipe is essentially Norwich Sourdough with the rye flour (about 10% of the total flour in the dough) replaced with bread crumbs. I also cut back on the salt a bit to account for the fact that some salt was already in the crumbs. I kept the hydration the same, and I think that was about right.
To make the bread crumbs, I cut approximately one-inch pieces of the old bread and ground them in a food processor until they were mostly quite fine but still had a bit of texture.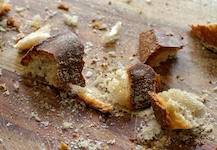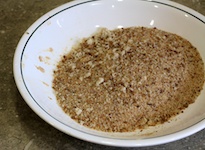 Bread Crumb Sourdough
Yield: 2 kg (4 small or 2 large loaves)
Time:
Mix/autolyse: 35 minutes
First fermentation: 3 hours, with folds at 1 hour and 2 hours
Divide, bench rest, and shape: 20 minutes
Proof: 2.5 – 3 hours
Bake: 40 minutes
Ingredients:
920 g flour
120 g Norwich Sourdough bread crumbs
600 g water
20 g (3-1/3 t.) salt
360 g mature 100%-hydration sourdough starter
Method:
In the bowl of a stand mixer, mix the flour, bread crumbs, water, and starter on low speed until just combined, about one minute.
Cover and let the dough rest (autolyse) for 30 minutes.
Add the salt and continue mixing on low or medium speed until the dough reaches a medium level of gluten development. This should only take about 3 or 4 minutes, maybe less.
Transfer the dough to an oiled container and ferment at room temperature for 3 hours, with folds at one and two hours.
Turn the dough out onto a lightly floured counter. Divide it into 500 g – 1000 g pieces and preshape them into light balls.
Sprinkle the balls lightly with flour, cover loosely with plastic, and let rest for 15 minutes.
Shape into batards or boules and place seam-side-up in a floured couche or baskets.
Cover and proof at room temperature for 2.5 – 3 hours, or until the indentation left by a fingerprint springs back very slowly.
Meanwhile, preheat the oven, with baking stone, to 475F. You will also need steam during the initial phase of baking, so prepare for this now.
Turn the proofed loaves onto a semolina-sprinkled peel or parchment and slash them as you like.
Once the loaves are in the oven, turn the heat down to 450F. For 500-gram loaves, bake for 5 minutes with steam, and another 25 minutes without steam. Then turn off the oven and leave the loaves in for 10 minutes longer, with the door ajar, to help them dry. Larger loaves will need to be baked longer.
Cool on a wire rack.