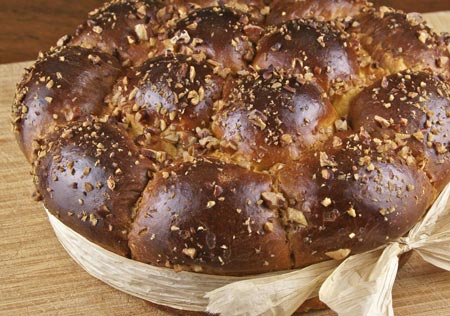 If I'm remembering my childhood correctly, there was a time when I didn't like winter squash. Hard to believe, because I can't get enough of it now: roasted or steamed; stand-alone, stuffed, or in risotto or pasta; with sweet spices or savory herbs. On top of all that, I have discovered it makes a pretty darn good brioche.
This bread is only lightly spiced so the squash flavor really shines through. Feel free to increase or tweak the spices to your taste. Also, it has less butter and sugar than a typical brioche; if you leave the pecans off the top, it could pass for dinner rolls, but the nuts push it over into pastry territory in my book. Either way, I think it's a delicious and festive addition to a holiday table.
I'm sending this to Boaz (Grain Power) and Zorra (1x umrühren bitte) for BreadBakingDay #14, Colored Breads. Don't adjust your monitor, the crumb really is this brilliant autumn gold: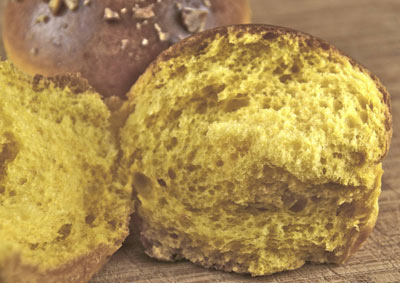 Butternut Brioche
Yield: 1800 g (two 9-inch round loaves, or two 8-inch round loaves plus 10 rolls, or any combination)
Time (after squash is baked and cooled):
Mix: 20 minutes
First fermentation : one hour at room temperature, then overnight in the refrigerator
Divide and shape: 15 minutes
Proof: 2 hours
Bake: 20 – 40 minutes
Desired dough temperature: 78F
Dough Ingredients:
840 g flour
60 g egg yolks
100 g whole eggs
34 g milk
480 g baked (until very soft) butternut squash pulp, mashed and cooled
1.5 g (generous 1/2 t.) cinnamon
0.8 g (1/4 t.) nutmeg
0.8 g (scant 1/2 t.) ginger
10 g (3-1/4 t.) instant yeast
14 g (2-1/3 t.) salt
water as needed (I didn't use any)
126 g brown sugar
226 g butter, cut into half-inch cubes, softened
Topping Ingredients:
one egg
finely chopped pecans (optional)
Method:
Place flour, eggs and egg yolks, milk, squash puree, spices, yeast, and salt in the bowl of a stand mixer fitted with a dough hook. Mix at low speed for about 4 minutes. It is normal for the dough to be quite stiff at this point, but if the dough is too dry to come together, add just enough water to allow it to do so.
With the mixer in medium speed, add the brown sugar very slowly, in 5 or 6 increments. Mix for about two minutes following each addition. (If you add the sugar too quickly, mixing will take longer.)
Continue to mix in medium speed until the gluten reaches full development, i.e., you can stretch a paper thin, translucent "windowpane" from the dough.
Turn the mixer back to low speed and add the butter all at once. Mix for a minute in low speed, then turn the mixer to medium speed and mix until the butter is completely incorporated. You should have a dough that is very soft and satiny, quite extensible (stretchy) but also strong and elastic (springs back after being stretched).

Transfer the dough to a buttered, covered container. Ferment at warm room temperature (about 76F) for one hour, then refrigerate overnight (8 – 12 hours).
Divide the dough into 36 pieces of approximately 50 grams each. Degas each piece. Form each into a tight ball by placing it on the counter with your cupped hand loosely around it, and moving your hand in a tight circle several times.
For large round loaves, lightly oil two 8- or 9-inch cake pans and line their bottoms with parchment paper. Place 12 or 13 dough balls into each 8-inch pan, or 17 or 18 in each 9-inch pan. Any leftover balls can be baked as individual rolls, either on a parchment-lined baking sheet or in small, oiled brioche or tart tins.

Brush the dough lightly with egg wash made from one beaten egg. Cover and proof for about an hour and 45 minutes at warm room temperature.
Meanwhile, preheat the oven to 380F.
Before baking, brush the dough again, lightly but thoroughly, with egg wash. Sprinkle with chopped pecans if you like.

Bake at 380F until the brioche has reached an internal temperature (use an instant-read thermometer) of at least 190F. This will take about 15 – 20 minutes for individual rolls and 30 – 40 minutes for the multi-roll loaves. The tops are meant to become a deep, dark chestnut brown, but if they become too dark you can lay a piece of parchment paper loosely over the top of the loaf after 25 minutes or so.
Cool loaves in their pans for 5 minutes, then remove to a wire rack to cool completely.