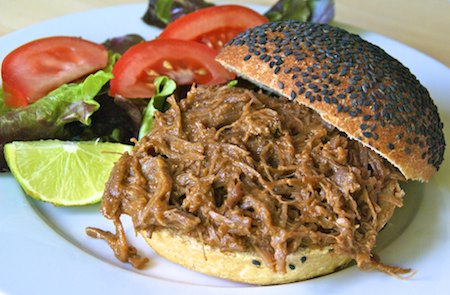 I have to say this was a pretty good sandwich.
The meat is goat shoulder, which shows up in my meat CSA box with unpredictable regularity and which I have never, until now, succeeded in preparing beyond the "barely recognizable as food" level. Of course, this is not because there is anything wrong with the goat itself, but rather because I am just by nature, it seems, mystified by meat. Baffled by beef, perplexed by pork, foiled by fowl, and saddest of all, bullied by billy. Poor me.
Time to buckle down and hunt in earnest for something foolproof. I found it in Simply Recipes' pulled pork recipe, which worked beautifully for the piquant, sinewy goat meat. The only change I made was to pressure-cook the meat with the water for 20 minutes before adding the sauce and simmering for two hours; it was then so tender that a stern glance was all it took to make it fall apart. Who's bullying whom now, hm?
The rolls are a variation on my usual hamburger buns; the primary change was making the prefermented dough with whole wheat rather than white flour, which boosts the proportion of whole wheat flour in the rolls to about 72%. So they're good for you, but if you use white whole wheat flour your kids will never know the difference between these and store-bought rolls. Oh, except these taste a lot better, and hold up better buried under a pile of bullied goat, too.