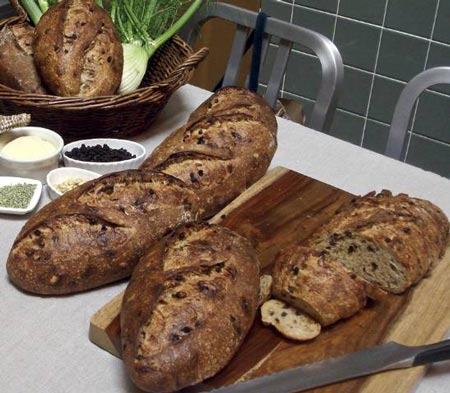 On a Friday night in late January, when most normal baking students might be relaxing and recovering from a hard week of cakes, buttercreams, meringues, and more cakes with a nice dinner, a bottle of wine, and maybe a movie, I had something else in mind. I caramelized eight bulbs of fennel,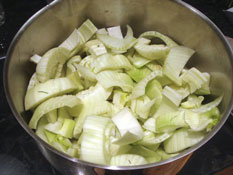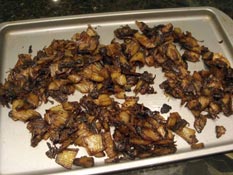 and toasted more pine nuts and fennel seed than I'll use all at once ever again. I fed my starter, building it up to over one kilogram, and called it a night.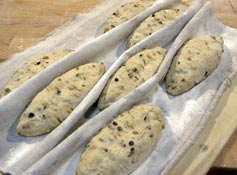 On Saturday morning, I was back at school bright and early, adding my carefully-prepared elements to the mixer along with exactly the right amount of flour, semolina flour, olive oil, water, and dried currants to make 7.1 kilograms of bejeweled and fragrant dough.
Three hours or so later, I shaped the bejeweled, fragrant, and now very lively, fermented dough into fourteen pointy batards, tucked them snugly into their linen beds, and bid them a chilly good night at 46F.
I wondered nervously if these pointy batards could be trusted to settle down to a long, slow proof like they were supposed to. Would I return early Sunday morning to find them plump and energized from a peaceful nap, or would they be spent and deflated after a night of wild yeast partying with the loaves of six of my classmates in that unchaperoned retarder? And would they bake up into the deeply-colored, crusty-outside-soft-inside, savory-sweet loaves that I envisioned, or fall flat under the pressure?
The short answer is that when I pulled these loaves  out of the oven at 7:30 a.m., I was very happy, and satisfied that I was ready for battle in the form of SF Food Wars: Yeast Affliction!