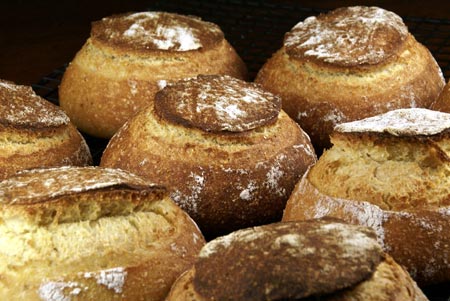 For Christmas Eve dinner I made chili and corn bread. Because we were ten people and I thought to save a little time on after-dinner clean-up, I made sourdough corn bread bowls to hold the chili. I mixed the dough at about 7 a.m. and the bowls were baked, cooled, and hollowed out just in time for dinner at 6 p.m. Uh huh, it was such a time-saver over washing ten dishes.
OK, so I may not win the Ms. Efficiency title this year, but everyone said these bowls were good. So good, in fact, that they ate them before going back for seconds on the chili, so we still ended up with a bunch of dishes to wash. But isn't that, after all, what the holidays are about — baking and cleaning?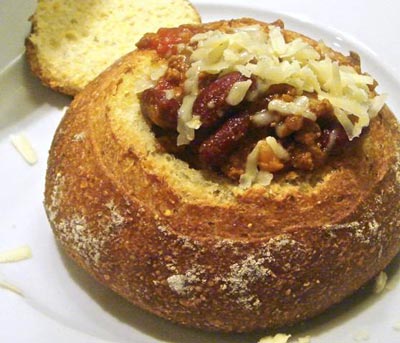 Sourdough Corn Bread
Yield: 1500 g (6 small boules for bowls)
Approximate Time:
Mix: 10 minutes
First fermentation : 2.5 hours with folds at 50 and 100 minutes
Preshape, rest, and shape: 40 minutes
Proof: 2 hours
Bake: 30 minutes
Desired dough temperature: 75F
Ingredients:
429 g flour
291 g corn flour
46 g coarse corn meal
about 406 g water
18 g (1 T.) salt
4 g butter at room temperature
307 g mature 100%-hydration sourdough starter
Method:
In the bowl of a mixer fitted with a dough hook, combine all of the final dough ingredients, holding back a small amount of water. Mix on low speed until the ingredients are incorporated, about 5 minutes. Adjust the water as needed to achieve a medium-consistency dough.
Continue mixing in low or medium speed to a medium level of gluten development.
Transfer the dough to a lightly oiled container. Cover and ferment for 2.5 hours, with folds at 50 and 100 minutes.
Turn the dough into a lightly floured counter. Divide it into 6 pieces of approximately 250 grams each. Preshape them into balls and let rest, covered, for 30 minutes.
Shape the dough into balls and place them, seam-side-up, into small floured, linen-lined bowls or baskets. (Fairly deep soup bowls — like those you might use for chili — serve well. Imagine that.)
Proof, covered, at room temperature for about 2 hours, or until a finger pressed into the dough leaves an indentation that recovers very slowly. If your oven is not large enough to accommodate all the loaves at once, proof for about an hour and a half before placing them in the refrigerator until ready to bake.
Meanwhile, preheat the oven, with baking stone, to 475F. You will also need steam during the initial phase of baking, so prepare for this now.
Just before baking, slash the loaves with a single circular slash around the circumference near the top. (This will make it easy to slice the tops off for hollowing.)

Once the loaves are in the oven, reduce the temperature to 450F. Bake for 5 minutes with steam, and another 20 minutes or so without steam. Then turn off the oven and leave the loaves in for another 5 minutes, with the door ajar.
Cool completely on a wire rack.
For bowls, slice the tops off at the score, then use a spoon to hollow out, leaving a half-inch shell.