Be honest, do you see a dove here?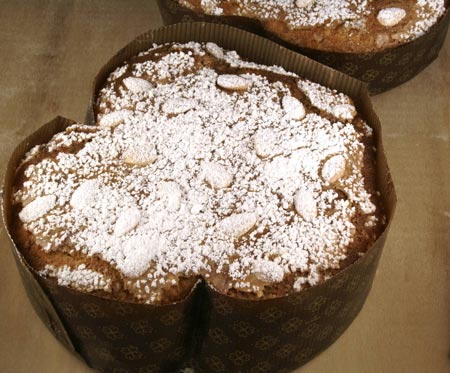 Me neither. How about now?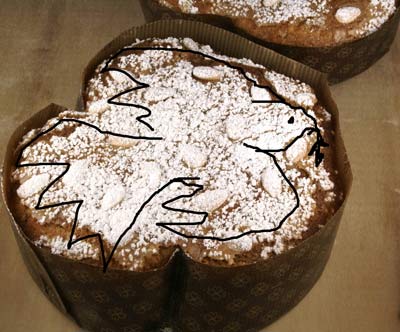 Okay, I admit it's a stretch. But unable to find the paper dove-shaped molds that I should have used to bake Colomba di Pasqua, the traditional Italian Easter bread, I resorted to trying to make my own. Two 3-inch deep, 10-inch diameter paper pans with a few strategically placed staples were going to have to do.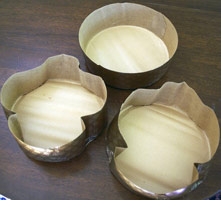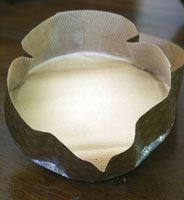 Next time I will cut about an inch off the top of the pan so the dove can rise and soar above it instead of being trapped in a paper cage. Actually, there won't be a next time for these makeshift molds, as I'm going now to order my genuine Italian Colomba pans for next year.
I adapted the recipe from the English translation of Cresci: The Art of Leavened Dough by Iginio Massari and Achille Zoia. I have had this opulent (and unfortunately out-of-print) book for a while, and regularly open it when I'm in the mood for a good drool, but had never baked from it before.
The formula is remarkably similar to the one I use for Panettone, but a little sweeter and richer. I built the sweet starter according to the same method I use for that other classic Italian holiday bread. Instead of using my tried-and-true mixing method for sweet enriched breads, where the sugar is added gradually and the dough is mixed to full gluten development before adding the butter, I followed the method given in Cresci, adding sugar initially in the first dough, and butter and sugar at once in the final dough.
I didn't even check the gluten (what was I thinking?) and it came back to haunt me. When I tried to shape the poor bird… well, I'll just let the photos speak for themselves (can't you hear them saying "ACK!" ?):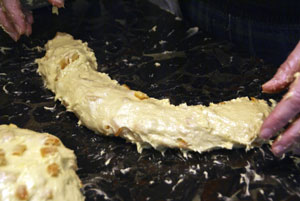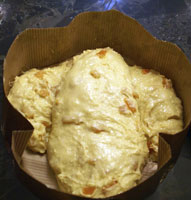 Of course the real reason for making sure your gluten is well-developed is to ensure the rise and texture you want, and I have to say this was pretty good, better than I expected. Moist and shreddy, but a bit too dense.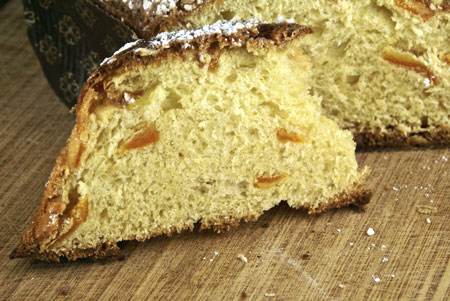 Next time I'm sticking with my usual mixing method, which is described in my Panettone post if you're interested.
I'm sending this semi-successful Colomba di Pasqua to Cinzia (Cindystar) for her Happy Baking Easter! event.
Colomba di Pasqua
(Adapted from Cresci: The Art of Leavened Dough by Iginio Massari and Achille Zoia)
Yield: 2400 g (2 loaves)
Time (assumes you are starting with a mature stiff starter):
Build the starter: 12 hours, at 4-hour intervals
Mix and ferment first dough: 12.5 hours at 75F
Mix final dough: 20 minutes
Fermentation of final dough: 1 hour, with folds at 20 and 40 minutes
Divide and shape: 15 minutes
Proof: 6 hours at 85F (longer at room temperature)
Bake: one hour
Sweet Starter Ingredients:
20 g stiff (50% hydration) sourdough starter
110 g flour, divided
55 g water, divided
First Dough Ingredients:
205 g fine granulated sugar
205 g water
548 g flour
0.5 g instant yeast (osmotolerant SAF Gold, if possible)
144 g sweet starter
137 g egg yolk (about 7 yolks)
171 g butter, softened
Final Dough Ingredients:
all of the first dough
137 g flour
10.3 g (1-2/3 t.) salt
13.7 g (scant 4 t.) diastatic malt powder
seeds scraped from half a vanilla bean
137 g egg yolk
103 g fine granulated sugar
34 g honey
240 g butter, softened
411 g candied orange peel
Glaze Ingredients:
64 g granulated sugar
32 g ground almonds
8 g ground toasted hazelnuts
2 g (3/4 t.) cocoa powder
4 g corn flour
4 g potato flour
24 g egg white (this is how much the recipe called for; I used quite a bit more to get a spreadable consistency)
Topping Ingredients:
powdered sugar
pearl sugar
whole blanched almonds
Method:
To build the sweet starter: Mix 20 g stiff starter, 20 g flour, and 10 g water. Ferment for 4 hours at 85F. Discard all but 30 g of the starter, feed it with 30 g of flour and 15 g of water, and ferment for 4 hours. For the third feeding, start with 60 g of starter, add 60 g of flour and 30 g of water, and again ferment for 4 hours. Scale out the amount needed for the first dough.
In the bowl of a stand mixer with dough hook, mix the first dough sugar and water until the sugar is dissolved. Add the flour, yeast, and sweet starter and mix for 15 minutes, then add the butter and egg yolk and mix until they are incorporated and the dough is smooth.
Cover the bowl and ferment the first dough for about 12 hours at warm room temperature (75F), until tripled in size.
Again at the mixer, add the final dough flour, salt, malt, vanilla, and half the egg yolk to the first dough and mix until smooth. Add the sugar, honey, butter, and remaining egg yolk and mix until smooth. Add the candied orange peel and mix until evenly incorporated.
Place the dough in a buttered container and proof at room temperature for one hour. I added folds at 20 and 40 minutes because the dough seemed excessively slack.
Turn the dough out onto a buttered counter. Divide it in half, and each half into two pieces. Shape one piece into a long cylinder to form the wings, and the other into a fatter cylinder for the body.
Proof at 85F for about six hours, until the dough has about tripled in size. I did this inside my oven with a bowl of hot water (replenished often) to maintain temperature and humidity.
Preheat the oven to 340F, with the rack in the center position.
To make the glaze, pulse the dry ingredients in a food processor until fine. Whisk in egg white until the consistency is barely able to be thinly spread.
Spread the glaze in a thin layer on the proofed loaves. Top with blanched almonds, pearl sugar, and a heavy dusting of powdered sugar.
Place the loaves directly on the oven rack and bake at 340F for one hour.
Cool on a wire rack.