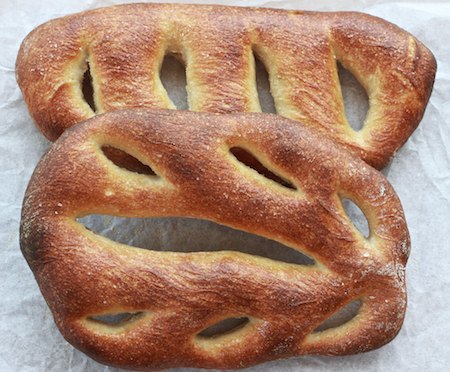 This month the Bread Baking Babes were all about shaping our loaves into leaves and ladders, as Elizabeth directed us to use our favorite bread dough for fougasse. These breads are shaped into flat-ish ovals and cut either before the final proof or just before baking. The payoff is maximal surface area (crust!) and something different for the table.
Fougasse often has cheese, herbs, or other additions in the dough or on top, but I kept it simple and used plain old (and by "plain old" I mean my very favorite) Norwich Sourdough. I cut my ovals after proofing (just before baking) with a small rigid plastic dough scraper. After baking I brushed them with olive oil and sprinkled them with Kosher salt. A nice accompaniment to early fall vegetable soup.
One word of caution: make sure you use plenty of cornmeal or semolina on the peel, like this, to ensure a smooth slide into the oven: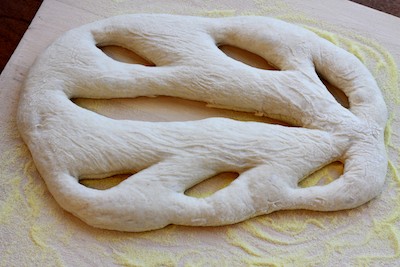 Skimp on the semolina, and your beautifully shaped fougasse…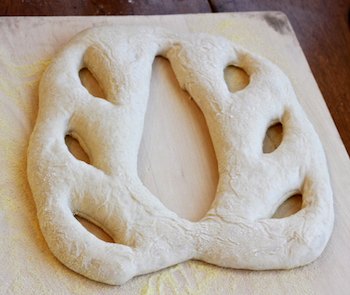 … sticks to the peel, and is now fubar. Oh well.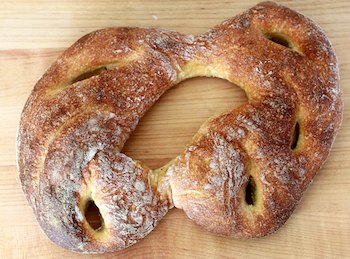 To participate in the fougasse fest, send your stuff to Elizabeth (details near the bottom of her post) by October 29. And of course the other Babes' fougasses are must-sees (links toward the bottom of my right sidebar).