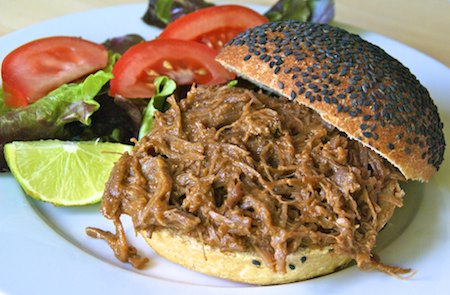 I have to say this was a pretty good sandwich.
The meat is goat shoulder, which shows up in my meat CSA box with unpredictable regularity and which I have never, until now, succeeded in preparing beyond the "barely recognizable as food" level. Of course, this is not because there is anything wrong with the goat itself, but rather because I am just by nature, it seems, mystified by meat. Baffled by beef, perplexed by pork, foiled by fowl, and saddest of all, bullied by billy. Poor me.
Time to buckle down and hunt in earnest for something foolproof. I found it in Simply Recipes' pulled pork recipe, which worked beautifully for the piquant, sinewy goat meat. The only change I made was to pressure-cook the meat with the water for 20 minutes before adding the sauce and simmering for two hours; it was then so tender that a stern glance was all it took to make it fall apart. Who's bullying whom now, hm?
The rolls are a variation on my usual hamburger buns; the primary change was making the prefermented dough with whole wheat rather than white flour, which boosts the proportion of whole wheat flour in the rolls to about 72%. So they're good for you, but if you use white whole wheat flour your kids will never know the difference between these and store-bought rolls. Oh, except these taste a lot better, and hold up better buried under a pile of bullied goat, too.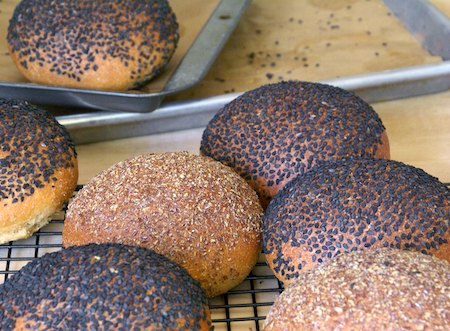 My oven goes a bit out of sorts now and then, and when I went to turn it on to bake the rolls, I found that the temperature select knob was stuck at 350F, the default temperature. In case your oven goes out of sorts too, you can bake the rolls at 350 for 27 – 30 minutes instead of 380 for 16 – 18 minutes as per the recipe. And I hope your oven fixes itself the next day, as mine always does (until it doesn't).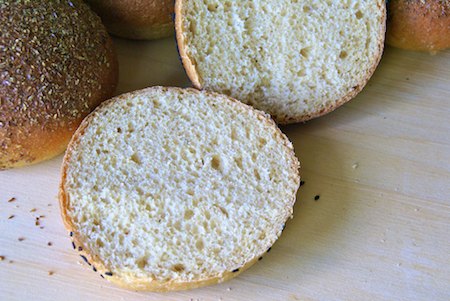 72% Whole Wheat Sandwich Rolls
Yield: 1000 g (10 rolls)
Time:
Mix/ferment the prefermented dough: 2 hours
Mix final dough: 10 minutes
First fermentation: 1 hour
Divide and shape: 5 minutes
Proof: 1.5 – 2 hours
Bake: 18 minutes
Desired dough temperature: 75F

Prefermented Dough Ingredients:
171 g whole wheat flour
121 g water
1 g (1/3 t.) instant yeast
3.4 g (9/16 t.) salt
Final Dough Ingredients:
164 g flour
246 g whole wheat flour
125 g lukewarm water
4.1 g (1-1/3 t.) instant yeast
8.2 g (1-3/8 t.) salt
110 g (2 whole) egg
42 g vegetable oil
20 g sugar
29 g maple syrup
286 g (all of the above) prefermented dough
seeds or meal for topping (I used black sesame seeds and flax meal here; other suggestions are poppy seeds, flax seeds, and wheat bran)
Method:
Prefermented Dough:
Mix all of the prefermented dough ingredients by hand for a few minutes until the dough is smooth.
Cover and ferment for 2 hours at room temperature.
Rolls:
Cut the prefermented dough into about six pieces and add them to the bowl of a stand mixer with all of the other final dough ingredients (except reserving about 10% of the water).
Mix on low speed until the ingredients are incorporated, about 4 minutes. Add water as needed to give the dough a medium-soft consistency.
Continue mixing in medium speed until the gluten has reached full development.
Divide the dough into ten pieces of approximately 100 g each.
Press each piece firmly to degas it, then shape into a tight ball. The easiest way to do this is to tuck the edges of the degassed dough under, pinch the seam closed, and cup your hand over the dough while rolling it in a circle against the unfloured countertop.
Roll the top of the ball on a wet towel to moisten it, then in the seeds or meal of your choice.
Place the rolls on two parchment-lined baking sheets and press them down into discs with the palm of your hand.
Cover the sheets and proof the rolls at room temperature for about 1.5 – 2 hours, until the dough springs back very slowly when pressed with a fingertip.
Meanwhile, preheat the oven to 380F. If your oven has a convection setting, use it (otherwise you may need to rotate the sheets halfway through baking to ensure even browning). You will also need steam during the initial phase of baking, so prepare for this now.
Bake for 8 minutes with steam, and another 8 – 10 minutes without steam, until the rolls are nicely browned.
Cool on a wire rack.