There are times when a toss-up is definitely not a good thing. The upcoming election, for example. You want your candidate to earn an unequivocal win, right? So get out there and vote on November 4, if you haven't done so already. I'll be really ticked off if I have to stay up until 6 AM while "too close to call" remains on the lips of every news anchorperson in the country, because you didn't bother to vote. So go, no excuses. That means you!
This month's Daring Baker's challenge was a toss-up of a different kind. Our host Rosa (Rosa's Yummy Yums) delighted me by choosing pizza, but terrified me by stipulating that we had to shape the crust by tossing it up in the air like a real pizzaiola. The last time any crust of mine was airborne involved a few choice expletives and a pretty extensive patch job. Thenceforth, until Rosa stirred things up, I resigned myself to being a more relaxed, if inauthentic, pizza crust roller.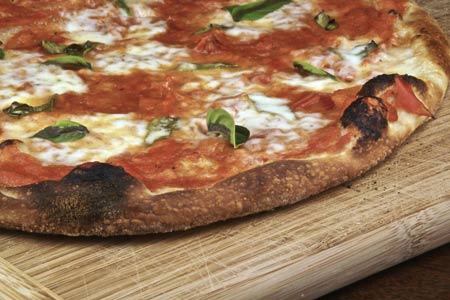 But rules are rules; rolling was not an option with these babies. With a little help from this tutorial video from the California Culinary Academy, I'm happy to say I tossed three pizza crusts without breaking out the rolling pin.
The good news is there were no major accidents, it was very fast, and I did get rounder crusts than I've ever managed with a rolling pin. On the down side, it was so fast that it was pretty much done before my husband could focus the camera, so getting a decent photo of the tossing in action (as further stipulated by the challenge rules) was just not going to happen. Also, I couldn't seem to get the hang of tossing so that the crust was uniformly thin; the center of each of the three was paper-thin while the edges were considerably thicker. Not a major disaster, but my technique still needs plenty of work.
I cut the crust recipe in half and made three 10.5-inch pizzas. In my countertop Cuisinart Brick Oven cranked up to its maximum 500 degrees, they were done in 4 minutes flat, with just the right amount of crust char. (If you have a little extra counter space hanging around, think about this oven, which is terrific for lots besides pizza.)
Although I prefer to make my favorite pizza margherita with tomato slices, I instead made a simple sauce from seeded chopped tomatoes, salt, and a little pepper, in fulfillment of the challenge's "must have sauce" rule. Fresh mozzarella and a few basil leaves (half applied before baking, half after) finished this one off.
My other pizzas, though, were sauceless (unless you count olive oil brushed on the crust as a sauce): one with potato, goat cheese, red onion, garlic, rosemary and Kosher salt (only a little of each); the other with pears, gorgonzola, and pumpkin seeds.
The other Daring Baker pizzaiolos and pizzaiolas will keep you busy for weeks reading about their lovely pies. Just one thing, though – don't get so caught up in them that you forget to vote, OK?